Booming continent with a flourishing southern tip
According to the German Federal Ministry for Economic Affairs and Energy (BMWi), German direct investments in Africa have more than doubled in just four years – reaching 1.94 billion euros in 2018.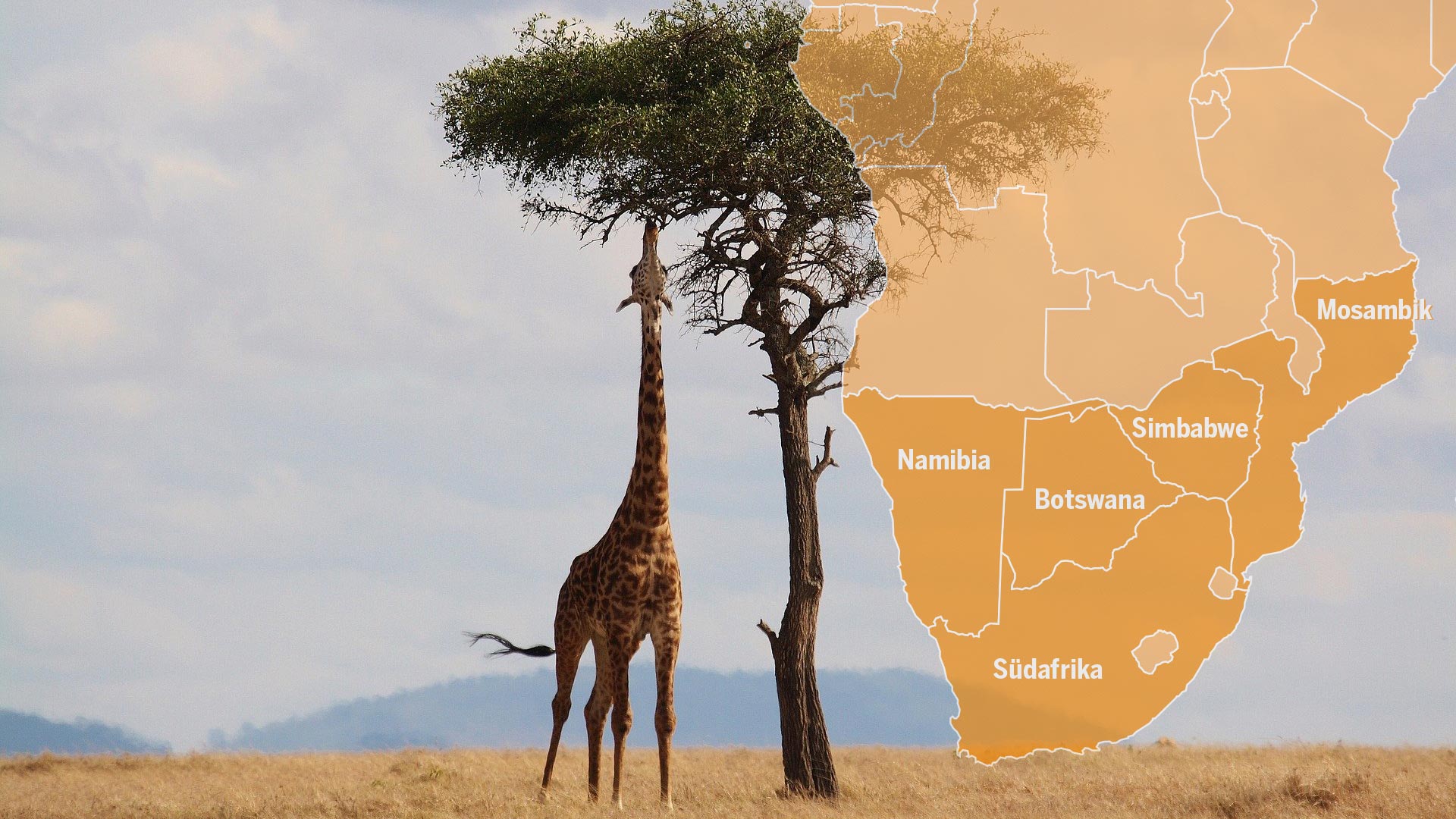 Additionally, the German Federal Ministry of Economic­ Cooperation and Development (BMZ) attests that the African continent has "enormous potential that goes far beyond its wealth of resources, cultural diversity, entrepreneurial spirit and innovative strength". In fact, about half of the 20 fastest growing national economies are ­located in Africa. As Africa's most important national economy, the Republic of South Africa is also seeking solidarity with Germany as one of its traditionally most important trading partners. The Cape is also considered a springboard for the continent in view of the planned African domestic market with its 1.2 billion consumers. When we hereafter refer to "Southern Africa", we mean the southern part of the African continent with the Republic of South Africa and its neighbouring countries – knowing full well that the use of the term is by no means uniform.
Germany's most important trading partners
Ranking of the countries with which the Federal Republic of Germany is actively involved in foreign trade (goods) (2018)
Exports in 1,000 Euro
1. USA 113,451,485
2. France 105,335,976
. . .
31. South Africa 9.079.802
Imports in 1,000 Euro
1. China 106,171,296
2. Netherlands 98,189,208
. . .
29. South Africa 8,004,032
Largest ports in Africa
ranked by volume of containers handled in 2018 (in million TEU)
Durban
(South Africa)
2.96
Botswana
Capital city: Gaborone Population: approx. 2.4 million GDP (per capita in US $ 2019): 8,263 GDP growth in 2019: 3.9 %
Most important German imported goods 2018 as a % of the total imports
Foodstuffs

78,1%

78,1%

Raw materials (excl. fuels)

12,4%

12,4%

Machinery

2,3%

2,3%
Most important German exported goods 2018
as a % of the total imports
Electrical engineering

65,4%

65,4%

Measurement an control technology

11,7%

11,7%

Machinery

5,8%

5,8%
Zimbabwe
Capital city: Harare Population: approx. 15.3 million GDP (per capita in US $ 2019): 1,423 GDP growth in 2019: – 5.2 %
Most important German imported goods 2018 as a % of the total imports
Beverages/tobacco

44,6%

44,6%

Raw materials (excl. fuels)

23,3%

23,3%

Foodstuffs

16,5%

16,5%
Most important German exported goods 2018
as a % of the total imports
Machinery

25,7%

25,7%

Chemical products

16,9%

16,9%

Foodstuffs

12,4%

12,4%
South Africa
Capital city: Pretoria and Cape Town (parliamentary seat) Population: approx. 58 million GDP (per capita in US $ 2019): 6,331 GDP growth in 2019: 1.2 %
Most important German imported goods 2018 as a % of the total imports
Motor vehicles and parts

39,5%

39,5%

Non-ferrous metals

13,4%

13,4%

Raw materials (excl. fuels)

13%

13%
Most important German exported goods 2018
as a % of the total imports
Motor vehicles and parts

28%

28%

Machinery

21,3%

21,3%

Chemical products

15,8%

15,8%
Namibia
Capital city: Windhoek Population: approx. 2.4 million GDP (per capita in US $ 2019): 5,675 GDP growth in 2019: 1.4 %
Most important German imported goods 2018 as a % of the total imports
Non-ferrous metals

60,9%

60,9%

Foodstuffs

22,1%

22,1%

Non-metallic minerals

9,4%

9,4%
Most important German exported goods 2018
as a % of the total imports
Foodstuffs

28,6%

28,6%

Machinery

24,4%

24,4%

Electrical engineering

6,2%

6,2%
Mozambique
Capital city: Maputo Population: approx. 30.3 million GDP (per capita in US $ 2019): 493 GDP growth in 2019: – 0.5 %
Most important German imported goods 2018 as a % of the total imports
Coal

52,1%

52,1%

Non-ferrous metals

34,7%

34,7%

Beverages/tobacco

6%

6%
Most important German exported goods 2018
as a % of the total imports
Machinery

45,9%

45,9%

Foodstuffs

14,7%

14,7%

Electronics

14,6%

14,6%
Source: Africa Business Guide