Social media – especially Snapchat, TikTok and Instagram – are a part of everyday life for most young people. Companies can use these to present themselves as an attractive employer to future generations. Based in Stuhr near Bremen, CML Transport und Logistik explains how to go about it and what you need to consider. But according to a recent study, there's still much room for improvement.
Credits: Adobestock/Andreas Prott/icons gate, CML Logistik Gruppe
"ARD/ZDF-Onlinestudie 2022" has found that people aged 14 to 29 spend an average of around 413 minutes online every day, which is just under seven hours. So it is all the better that, according to a study published by the German Maritime Centre (GMC) in June of this year, 97 per cent of the 152 German maritime companies surveyed are digitally active.
"It's absolutely essential to have an online presence," emphasised Hanna Maurer, GMC social media expert for the maritime industry. "It's a good idea to start small and then expand gradually. The most important thing is the website. Here you can publish in-depth information, which you can tease, for example, in a newsletter." Social media are the second step. "But social media posts need to be up to scratch, too. And there needs to be someone in charge of texts, videos and image rights," said Maurer.
But according to the "Potential analysis on the relevance of digital communication as a competitiveness factor for maritime companies in Germany", many companies primarily rely on established digital channels such as websites, newsletters and social media channels like LinkedIn, Facebook and Instagram. In contrast, younger users tend to prefer TikTok, employer review platform Kununu and instant messaging services such as WhatsApp, Signal and Threema. Here, in particular, there is still much that employers can do in the name of employer branding.
CML has been active in social media since 2019.
Based in Stuhr near Bremen, logistics service provider CML Transport und Logistik has maintained a presence on social media such as Facebook, Instagram and LinkedIn since 2019 and on TikTok for nearly a year now. The company can demonstrate what this might look like. "We reach our target groups through different channels. It's important to be represented there and to look after your community," explained Anastasia Oja, who is responsible for social media at CML.
But she recommends taking things slowly. "It won't work without a clear strategy," she added. "We've developed a social media mix and, of course, a content plan that we're always optimising." They address a whole host of topics – but especially those that are relevant and interesting to the CML target group.
"It's usually current topics in the field of container logistics such as driving and resting periods and the general car park situation for lorry drivers," explained the social media officer. "And there has to be plenty of fun content, too, which is why there's a section with jokes and funny videos from the company's everyday operations. We keep an eye on our social media mix at all times and follow current trends very closely."
It is also important to evaluate the presence on social media. "It goes without saying that we measure our successes and analyse which posts are the most successful with our target group and which aren't," Oja continued. The company also maintains active communication with the community and regularly asks for recommendations for future topics.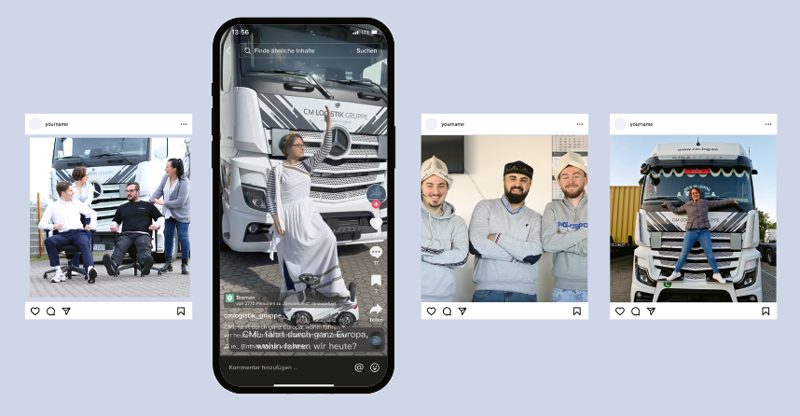 CML Transport and Logistik is a company that has been active on various social media channels since 2019. As you can see, the teams have fun creating content …
A clearly structured content plan is key
And even if much of it sounds easy-going, casual and humorous, you need to put a great deal of thought into when and how often to post. "We have a clearly structured content plan, which is essential to ensuring success on social media and building a community," emphasised the CML employee. "Without a plan, you're simply wasting your time. You can't achieve any sort of reach without an ongoing presence."
At CML, one employee is in charge of marketing and social media, and another is responsible for (advertising) texts. "Anything associated with organic reach is created in-house," explained Oja. This includes "content planning and creation, photos, videos, graphics and reach analysis." But the team now also collaborates across multiple departments, as shooting videos is always lots of fun.
Oja is more than happy to share a few tips. "Authentic content is the most successful," said the expert. "The close proximity to our target group and understanding their interests are key to good content. Honesty and a good dose of self-irony are the icing on the cake!" (cb)
CML Managing Director Alex Heine offers some social media dos and don'ts for other companies in the industry:
Dos
1. Start at the end and work backwards. You need to know what your goal is – right from the very start.
2. Define and research a clear target group. It's not about your own "feelings and perspectives", but those of your target group such as customers and employees.
3. Develop a long-term strategy. Social media is a marathon, not a sprint.

Don'ts
1. Be honest. Don't make any promises you can't keep or pretend to be anything you are not.
2. Copying from others is an absolute no-go. You don't know what their strategies or aims are.
3. Simply posting away without rhyme or reason won't work!