As Head of the NPorts Wilhelmshaven Port Office, Ilka Frerichs requires a completely different style of port expertise. After all, Jade Bay handles an extensive range of goods, from containers of LNG and chemicals to RoRo cargo.
Credits: Claudia Behrend, JadeWeserPort Wilhelmshaven/Björn Lübbe
As Ilka Frerichs, Head of the Port Office, explains the different areas of the aerial photo hanging in her office, it soon becomes clear that she not only keeps an eye on the entire Wilhelmshaven port, but also knows exactly what is going on in each of the different sections. And the port at Jade Bay is much bigger and diverse than you might think.
"The Hooksiel outer port is located all the way up north," explains Frerichs, who has overseen the port office since September 2022 and is the youngest manager at NPorts. She and her team of 18 are responsible for the wide variety of port activities, which begin with the smaller fishing boats and cutters so popular with tourists. And that is exactly where her most exciting day at NPorts ever started in December.
"It was a cold winter day when we boarded Argus, our multi-purpose vessel, with our branch manager, Mathias Lüdicke, and headed for the berth of LNG carrier Höegh Esperanza," she recalls. "It was quite impressive to see a special ship like that guided to the pier berth at the Voslapper Groden transshipment facility and Germany's first LNG terminal, monitored by ten police and SEK speedboats," says the department head, who first studied maritime transport and port management at the Jade University of Applied Sciences in Elsfleth and then acquired her Master's degree in maritime management.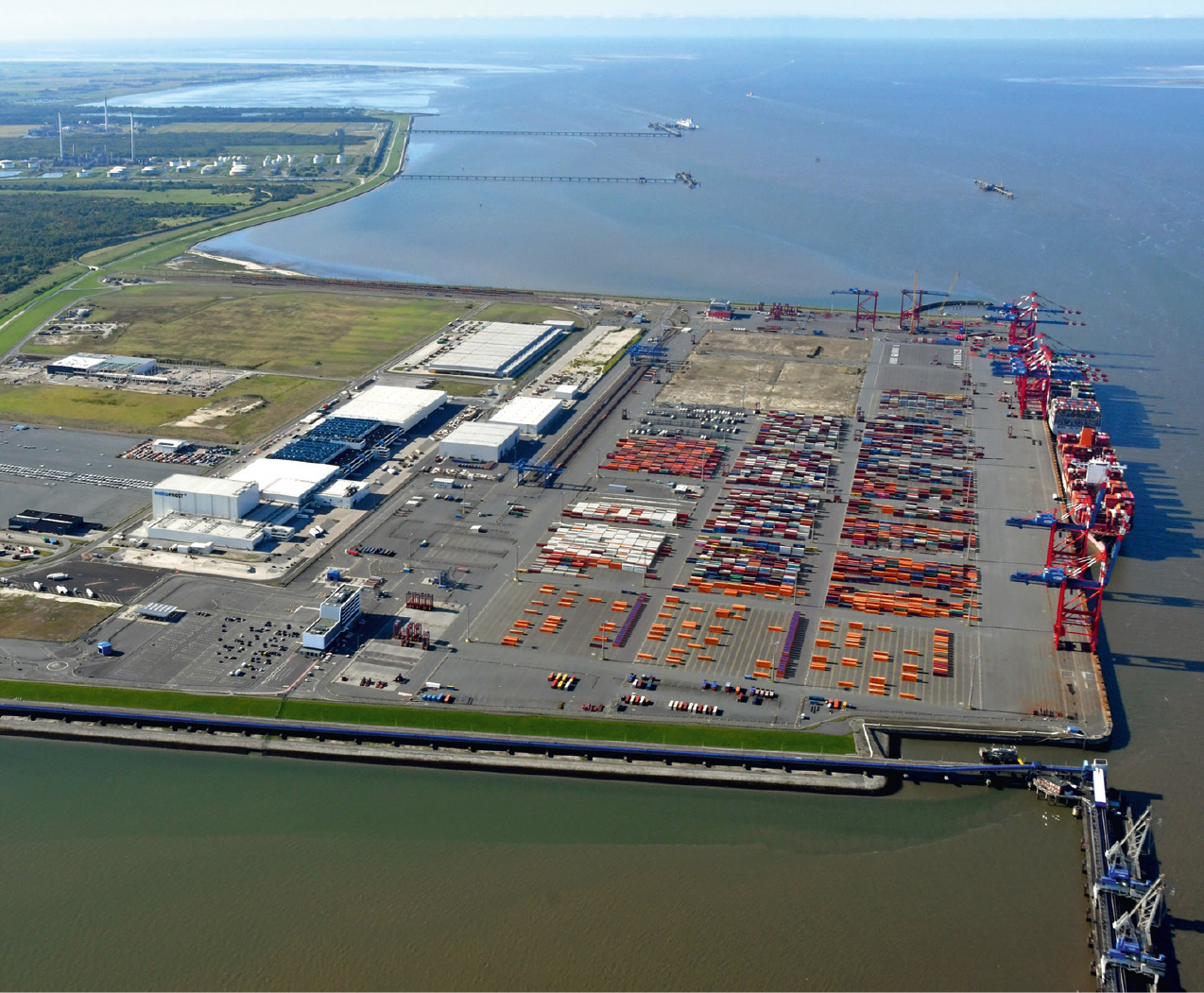 Wilhelmshaven handles a wide range of goods and welcomes an extensive array of ship types.
Well-coordinated processes at the LNG terminal
LNG delivery has continued without a hitch ever since. "Once a week, a tanker arrives to supply 'Höegh Esperanza' with liquefied natural gas. The processes are well coordinated." But as Head of the Port Office, she is also in charge of the other berth at the Voslapper Groden transshipment facility (UVG), which is used by chemical company Vynova and designed to handle ethylene and other chemical products.
The section of the port a little further south will soon make a name for itself nationally, as the Belgian operator Tree Energy Solutions (TES) has already begun constructing the second floating LNG terminal there, says Frerichs. Unlike UVG with its permanent sea bridge, this terminal will feature technology with a pipeline that is around 1,800 metres in length and secured both on and below the sea floor.
Further south, the recently delivered container cranes tower high above the approximately 130-hectare JadeWeserPort (JWP) operated by EUROGATE Container Terminal Wilhelmshaven. Germany's newest container port and only deep-water port, which handled 683,403 standard containers (TEU) last year, is located here at the outer port. Right next door, Bulk Terminal Wilhelmshaven (BTW) features three berths, one of which processes ultra-large bulk carriers (ULBC).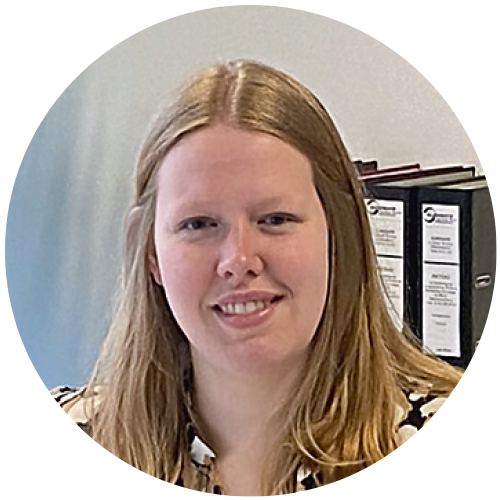 "Once a week, a tanker arrives to supply Höegh Esperanza with liquefied natural gas."
Ilka Frerichs is one of the youngest managers at NPorts and oversees the port office in Wilhelmshaven.
Wilhelmshaven's eight container bridges will be raised by eleven metres to accommodate the growing number of large container ships that dock at the port.
The NWO pier is of national importance
Also located at the outer port, the Nord-West Oelleitung (NWO) pier with tank farm and a transshipment volume currently at around 20 million tonnes a year has been Germany's most important berth for the import of mineral oil since 1958. However, it is only managed by on-duty nautical officers as required by the authorities. Commander Robert Uebe is also responsible for Neuer Vorhafen with the Heppenser Groden naval base. But Frerichs's areas of responsibility also include Fluthafen and Pontonhafen with the Nassauponton, Mittelbrücke, Wangeroogkai and Helgolandkai berths, which are mooring locations particularly for supply and company vessels such as toll boats, pilot boats and the Peter Habig SAR vessel of the German Maritime Search and Rescue Service (DGzRS).
Bulk, refrigerated, project and rolling cargo, in particular, is loaded onto and unloaded off of car carriers at Lüneburgkai and Braunschweigkai in the inner port, which is accessible via two lock chambers. And even the offshore industry uses the non-tidal port area as a base and service port. Also located close to Hannoverkai, the Neue Jadewerft was established in 1947 and has belonged to the Naval Vessels Lürssen Group since 2021.
The position of Head of the Port Office was only recently created when the port captain's responsibilities were redistributed to NPorts and the state of Lower Saxony. According to Frerichs, it is nearly 20 kilometres from one border of the port area under her purview to the other. Whilst all statutory tasks such as port authority authorisations and port authority representation for construction projects like the new LNG jetty are now the responsibility of the state of Lower Saxony, the Head of the Port Office is in charge of tasks subject to private law. Six office workers in Frerichs's team deal with matters such as coast radio, billing and customer queries. Her six colleagues out in the field oversee port operations, which include port authority ship inspections, port facility assessments, and port surveillance. Three additional employees are responsible for inspecting hazardous goods, and another is in charge of issues on-site at Fluthafen and Pontonhafen. In future, a Port Facility Security Officer will also monitor compliance with ISPS codes at Hannoverkai and the UVG sea bridge.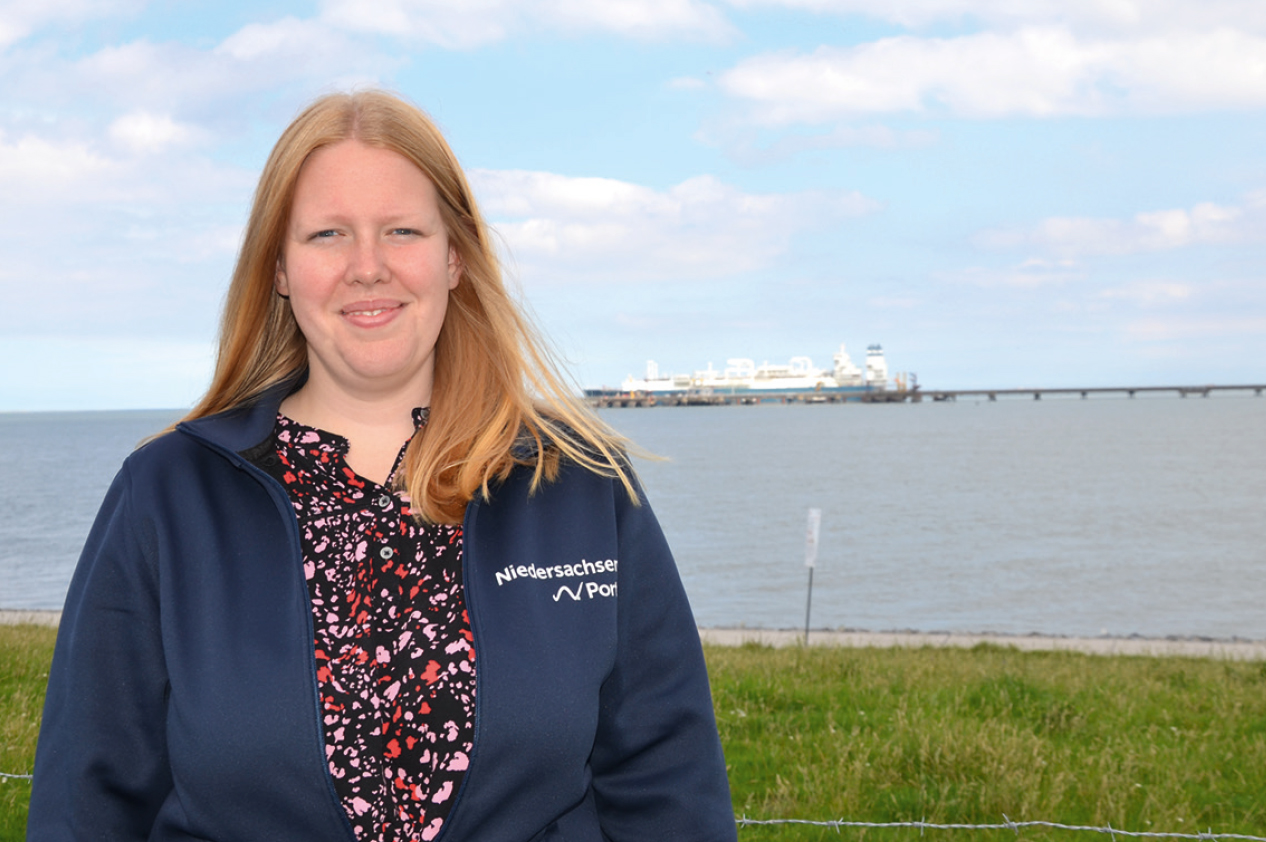 The LNG jetty in the background is the first of six liquefied gas terminals in Germany and was built in just 194 days.
Lots of coordination and communication
One of Frerichs's key areas of responsibility is coordinating shifts. "All the employees are motivated, complete their work and know what to do," she emphasises. "But I need to keep an eye on things and, for example, assign new tasks." She also deals with customer queries about non-standardised cargo, for example, as well as longer-term use of berths. "I'm also the initial point of contact for primary operations." In addition, Frerichs is responsible for the budget and statistics and is the contact for external parties such as the Central Command for Maritime Emergencies.
Handling the high volume of work is one of the biggest challenges for Frerichs in her new position. "For that, I need to develop different structures." Gaining a better understanding of departmental procedures and the site's unique qualities and culture is a learning process. Also new for her is dealing with the team's shiftwork, for which she needs to find her own forms of communication. Additionally, there is a shortage of skilled staff, which has made it even more difficult to fill two vacancies resulting from retirement and internal changes.
Frerichs has had a deputy, Marc Hoffmann, since 15 September, which will hopefully make it easier to find the time to inspect the port facilities and meet with captains and crew members. The team regularly tours the port facilities aboard the Argus. "I'd like to go out more often in the future." But Frerichs always has a good overview of the port regardless. (cb)