Project freight company Logistics Plus Projects of Bremen was founded in 2018, but is part of the decades-old Drewes Group.
Photos: Logistics Plus Projects (3)
Logistics Plus Projects of Bremen was launched only three years ago. The outlook was favourable. Its parent company, founded in 1996 in Pennsylvania, US, had over twenty years of experience behind it. In 2017, the Drewes Group acquired the Logistics Plus subsidiary in Antwerp and founded Logistics Plus Projects in Bremen a year later. The Group is currently in its fourth generation in the shipping and logistics markets and is continuing to evolve. "At the beginning, we were involved in large-scale projects, e.g. with Siemens in Tanzania, but we weren't then as broadly positioned as we are today with the global network of Logistics Plus international as well as that of the Drewes Group," says Logistics Plus Projects Managing Director Thomas Hölker from Bremen. The Drewes Group also includes freight company Carl Polzin and the Transport- und Handelsberatungsgesellschaft (THB).
Focus on project loading
While Carl Polzin specialises in logistics services for the steel industry and THB acts as a shipbroker for numerous well-known corporations and medium-sized companies, Logistics Plus Projects operates primarily as a project forwarder. An interdisciplinary team of twelve is based in Bremen. The forwarding and shipping merchants and engineers take care of container loads (FCL and LCL), sea and air freight and other transport modes in Germany and Europe. "The US market is covered by our American company, which is one of the country's leading logistics companies," says Hölker, but it's not a typical freight company. It offers 3PL (third-party logistics) and 4PL, where an independent party takes over the management, optimisation and control of the supply chain and provides IT solutions.
The company's integration into the Drewes Group and the expertise available there have contributed to Logistics Plus Projects' rapid growth. "Within only two years, we've signed several large framework agreements," says Hölker.
Despite its growth, the company has also felt the consequences of the pandemic. "The market twelve months ago was very different from what it is now," says Hölker. "A year ago, volumes dropped sharply and many ports were closed. For components for wind turbines, ships sometimes had waiting times of three to four weeks."
Fortunately, many restrictions were lifted in late summer, autumn and winter. Since then, however, the cargo backlog that had been created in the first half of the year by lockdowns, port closures and production stoppages has been worked through from October onwards, leading to an extreme shortage of cargo space. "The Chinese ports in particular were completely overloaded with containers, breakbulk and steel," says Hölker. But there was another development: "As the situation was similar in container shipping, the latter reacted and reduced breakbulk cargo, which has exacerbated the situation. We are currently seeing a continued tonnage shortage across the board – breakbulk, bulk and container." This volume is now being worked through, he says.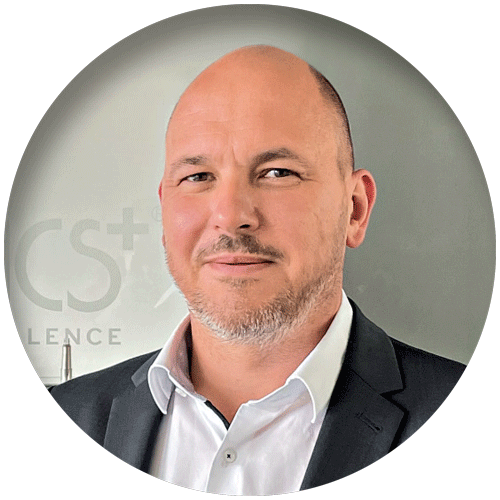 "In just two years we've been able to sign several major framework agreements."
Thomas Hölker, Managing Director, Logistics Plus Projects. 
It is only thanks to the specially design shipboard crane that an ammonia tank weighing 1,047 tonnes and measuring 30 x 40 x 17 metres can be loaded in the Korean port of Ulsan for shipment to Portland, US.
A difficult market for breakbulk
According to Hölker, the shipping industry used to work in cycles of about seven years, but this rule of thumb no longer applies. "We've had twelve bad years and now the worst summer I've ever experienced," Hölker emphasises. He doesn't expect the situation to ease in the short term. "In the bulk and breakbulk sector, we're not expecting any new builds, as the container shipping companies have reacted much faster with their orders and the Asian shipyards are now working to capacity for the time being." As in container shipping, the overall situation has led to skyrocketing freight rates. Breakbulk cargo from Asia to Europe currently has to pay around 50 to 60 per cent extra, and bunker prices have also risen.  "I don't expect the situation to ease until the fourth quarter of this year at the earliest, or even until the beginning of 2022," says Hölker.
Meanwhile, Hölker is satisfied with the growth of his project cargo business. "The flow of goods is normal and we are playing a significant role." When it comes to acquiring new customers, it helps that both Logistics Plus and its staff were already well established in the market. The fact that, due to the pandemic, the company hasn't had a meeting with any of its customers since September last year is definitely an obstacle. Like any company, it takes the health and safety of staff and customers seriously. "Before that, we were on the road a lot, because trust can be built better face to face than in a video call," says Hölker. Nevertheless, the prospects for 2022 are good. "When I look at our situation as a young company, I can only say that I am quite content." The company already has some permanent customers, but is still flexible in terms of new customer relationships.
According to Hölker, digitalisation is both a challenge and an opportunity.  "Our next step is to simplify the structures. Implementation is less challenging than the fact that our customers all have very different requirements. The pandemic has provided impetus. "Since then, more and more companies have been dealing with digitalisation. That's why I'm optimistic that we will continue to thrive. (cb)