Within about 20 years, Adani Ports has grown into the largest private port operator in India – a success story that now reaches far beyond the country's borders and even has an impact as far away as Wilhelmshaven.
Explosive development: In 2001, Adani Ports started operations in Mundra; by the end of this year Mundra overtook JNPT as the largest container port in India.
Although India's infrastructure has improved considerably over the past 20 years, critics still point to a lack of efficiency in the transportation of goods by sea, road and rail. It is therefore no coincidence that the subcontinent is ranked 81st in the international ranking of infrastructure quality by the World Economic Forum – even behind Jamaica and Tunisia. But examples such as India's largest private port operator, Adani Ports and Special Economic Zone Limited (Adani Ports), give cause for optimism and show how the maritime economy and logistics can be boosted through targeted investments. The company started operations in the Port of Mundra in 2001 and in less than 20 years has built an impressive portfolio of port infrastructure and services across India. The bottom line includes nine ports and 18 terminals in six different states of the country and, with Adani Logistics, a subsidiary that offers tailor-made landside logistics solutions.
Groundbreaking took place in 1998
Adani Ports, which is part of the Adani Group and thus one of India's largest infrastructure conglomerates, actually got off the ground in 1998 with the ground-breaking ceremony in the port of Mundra. Since then, the company has been responsible for the operation and maintenance of the site on the country's west coast, as well as for the port-based infrastructure facilities and the special economic zone (SEZ). In 2001, following an agreement with the Indian Oil Corporation (IOC), Adani Ports initially focused on the handling of crude oil, before gradually expanding its range of services to other commodities in the following years. This was followed only two years later by a sub-concession contract for a container terminal, which heralded the era of the box terminal in Mundra. In 2008 an agreement was concluded with Maruti Suzuki India Ltd. for the handling of car exports from Mundra, before the world's largest coal import terminal was built there in 2011. Further milestones followed in 2014 and 2016: two more joint venture container terminals with the Swiss shipping company Mediterranean Shipping Company (MSC) and the French shipping and logistics company CMA CGM. Today, Mundra is the largest private port in the country and is expected to replace Nhava Sheva as India's largest container port by the end of this year, according to handling figures from January to September 2020.
Adani Ports
Head office: Ahmedabad (India)
Foundation: 1998
Employees: 2,200
Ports: 9 plus Vizhinjam, which is currently under construction
Terminals: 18
Turnover: 1.6 billion US dollars (2019)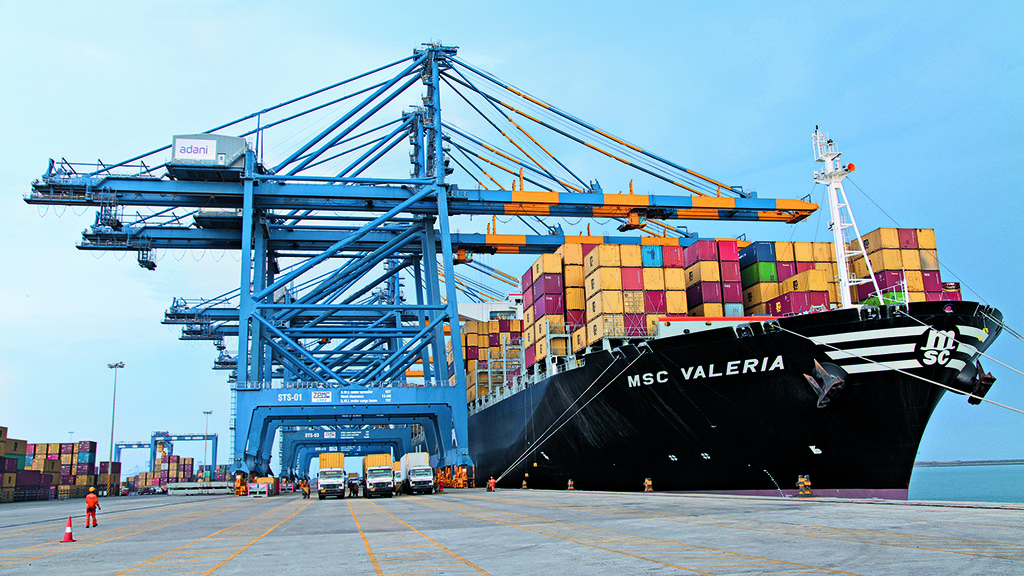 Mundra does not only handle containers and break bulk. Parts of the port also have special economic zone status.
Expansion across India
In addition to its activities in Mundra, Adani Ports has always maintained a parallel focus on improving the logistical infrastructure of the whole country. In 2003 the port of Dahej was built and in 2009 the port of Hazira was built as an alternative to the then congested port of Nhava Sheva. Today, Hazira mainly covers the hinterland of South Gujarat and North Maharashtra. In 2014, when Adani Ports acquired the port of Dhamra, it was the first time in the company's history that a total of 100 million tonnes of freight was handled via the various locations. To further boost this growth and mark its entry into the markets on the south-east coast of India, Adani Port purchased the Port of Kattupalli, a major gateway port in Tamil Nadu, in 2015. In addition, Adani Ports began operations in Ennore in 2018 with the aim of managing the congestion of logistical capacity around Chennai. As a result of this service package, the port operator was able to celebrate the doubling of its cargo volume to 200 million tonnes of freight via its own ports in 2019. Meanwhile, Adani Ports reports a market share of 22 percent in India. The main guarantors for these success figures are the ports in Mundra, Dahej, Hazira, Dhamra Ennore, Kattupalli, Krishnaptnam and the terminals in Mormugao Visakhapatnam and Kandla (Tuna Tekra). These sites handle a wide variety of goods, ranging from coal, crude oil and containers, fertilisers, agricultural products and steel, to project cargo, cooking oil, chemicals and cars.
In addition, Adani Ports has been operating the aforementioned logistics company Adani Logistics (ALL) since 2005. This also includes five logistics parks, which act as important centres for the consolidation and deconsolidation of incoming and outgoing goods. Other cornerstones of ALL are a fleet of 51 goods trains connecting the country's main centres of demand with the ports and 14 barges operating on India's inland waterways.
Sights set on international markets
However, in order to extend its reach beyond India's borders and to exchange information on new port technologies, Adani Ports has signed marketing agreements with a number of ports in its key markets in recent years. These include the cooperation with Container Terminal Wilhelmshaven, which started in 2019 and was signed by a Memorandum of Understanding (MOU). On this common basis, the partners have since then been working together in various areas to promote trade and container shipping between the Adani ports and the port of Wilhelmshaven. Andreas Bullwinkel, Managing Director of JadeWeserPort Marketing Company, explains this step: "For the development of our port it is of great importance to have the largest Indian port operator as a partner. Our MOU with Adani Ports allows us to gain deep insights into the Indian logistics market and strengthen our network"
Soon to reach 500 million tonnes
Despite the coronavirus pandemic, Adani Ports itself looks to the future with great confidence and ambitious expansion plans. These include organic and inorganic growth and the realisation of an annual turnover of 500 million tonnes. This should, if possible, already be the case in 2025. And with Vizhinjam, which will primarily function as a transhipment hub, the next port is already under construction. It is to go into operation in 2022. Even before then, Adani Ports is planning to complete a new terminal in Yangon, in the neighbouring state of Myanmar, next year. The ideas of Captain Sandeep Mehta, President of Adani Ports and Head of Container Business Development, have correspondingly clear contours: "We will continue to develop and operate the best container terminals and ports in India and overseas, while offering shipping companies high service standards for faster handling of ships. Mundra, our flagship port, will remain the epicentre of our logistics activities. It will provide our customers with complete logistics solutions, including sea-air logistics". (bre)
Milestones in the history of Adani Ports 1998 – 2020
1998: Start of construction in the port of Mundra.
2001: Mundra Port starts commercial operations.
2002: Mundra becomes the largest private port in India, handling 4 million tonnes.
2003: Establishes Dahej Port.
2009: Establishes Hazira Port.
2011: Commissioning of the largest coal importing terminal in the world in Mundra.
2014: Adani Ports reaches the milestone of 100 million tonnes of cargo handled.
Adani-MSC terminal in Mundra starts operations.
Acquisition of Dhamra Port and start of construction on the terminal in Ennore.
2015: Acquisition of Kattupalli Port and start of construction on the container terminal in Vizhinjam.
2017: Adani-CMA container terminal in Mundra starts operations.
2018: Ennore container terminal starts operations.
2019: Adani Ports reaches the milestone of 200 million tonnes of cargo handled.
2020: Adani Ports acquires the port of
Krishnapatnam.