Automotive logistics company MOSOLF is tapping into a new field of business, port logistics, with a particular focus on Wilhelmshaven and Cuxhaven.
Credits: Mosolf/Dietmar Bökhaus (2x), MOSOLF Gruppe/Bjoern Lubbe
The story begins with the purchase of the premises and land at JadeWeserPort Freight Village. Three years ago, automotive logistics company MOSOLF acquired a 10,000-square-metre space there with multi-functional hall and office building. Since then, the idea has been to establish automobile port handling in Wilhelmshaven and thus fulfil the demand for logistics services that are located near the port, but also extend beyond European borders.
The business with new vehicles kicked off in 2022. "Since the first ship of a large European car manufacturer docked in December, demand has increased significantly," says Kai Wenhold, Branch Manager for Wilhelmshaven and Cuxhaven. "As a temporary solution, we're using Lüneburgkai and Braunschweigkai in the inner port for handling vehicles from RoRo ships."
These days, many cars are being imported in containers. "Our Asian customers – OEMs and importers – are currently using more containers due to capacity shortages on RoRo ships," explains the branch manager. Large shipping companies are transporting hundreds of cars overseas and to Germany in this way, especially from the Chinese ports Qingdao and Shanghai. Depending on the vehicle type and requirements, two to four vehicles fit inside a 40-foot container.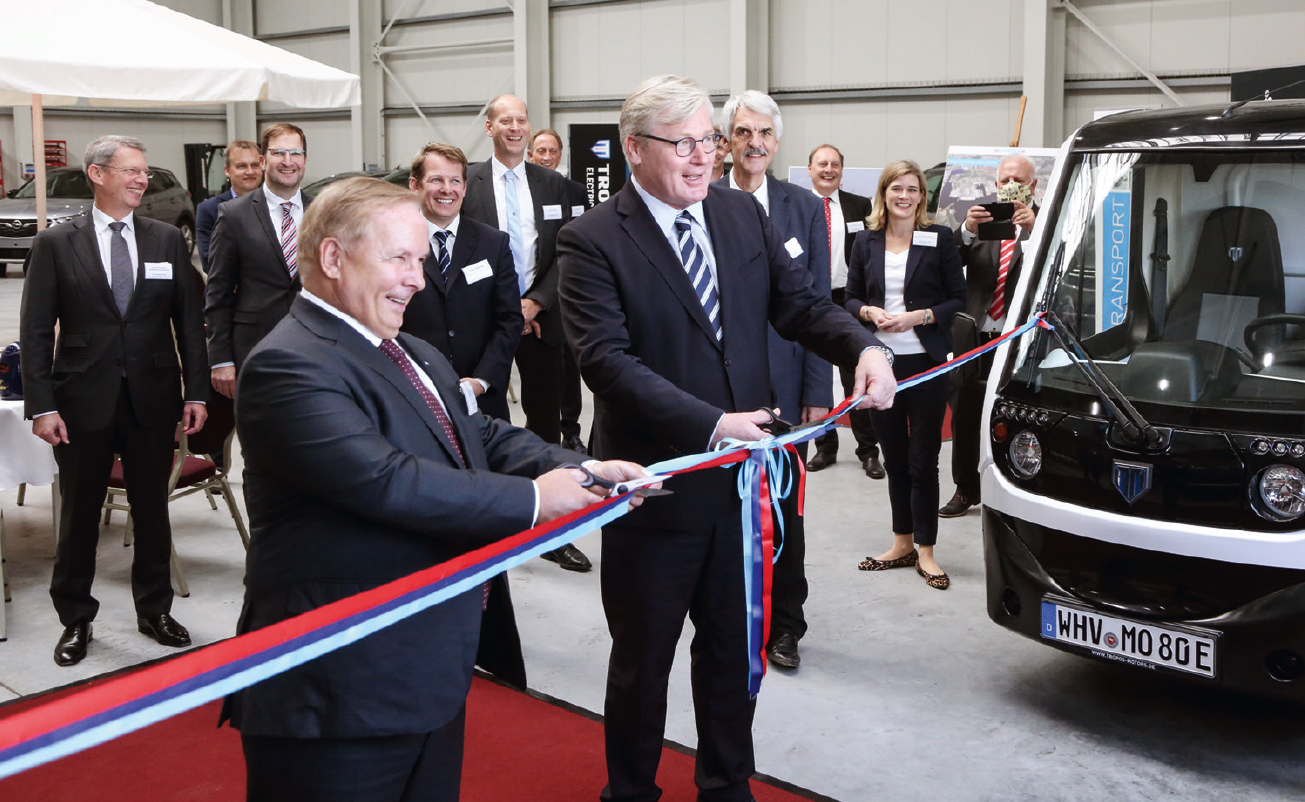 Much has happened since Bernd Althusmann, then Minister of Economic Affairs for Lower Saxony, (right) and Jörg Mosolf, Chairman of the MOSOLF Group Executive Board, (left) inaugurated the Wilhelmshaven car terminal in 2020.
More and more electric vehicles exported from China
Import is the fastest-growing business. "The three leading Chinese car manufacturers, including the largest manufacturer of electric vehicles and the market leader in China, deliver cars to us," explains Wenhold. With many vehicles produced in Asia, Turkey and Spain, the German automotive market as a whole has recently developed into an import market. However, the demand for export is also on the rise. "When shipowners import vehicles like these through Wilhelmshaven, they're also interested in taking cargo back with them, which is why we'll, hopefully, see more export customers in the near future," he adds.
MOSOLF currently has space for several thousand vehicles in Wilhelmshaven. But the new field of business is not restricted to this site. The company is planning additional business in collaboration with port operator Cuxport.
MOSOLF does not believe that its business in Wilhelmshaven and Cuxhaven will compete with the German ports Emden and Bremerhaven, which are already established in automobile port handling. "It's more likely to compete with Belgium and the Netherlands," Wenhold explains. "Cargo has moved to Antwerp, Zeebrugge and Rotterdam." There is also a high demand for additional port capacities.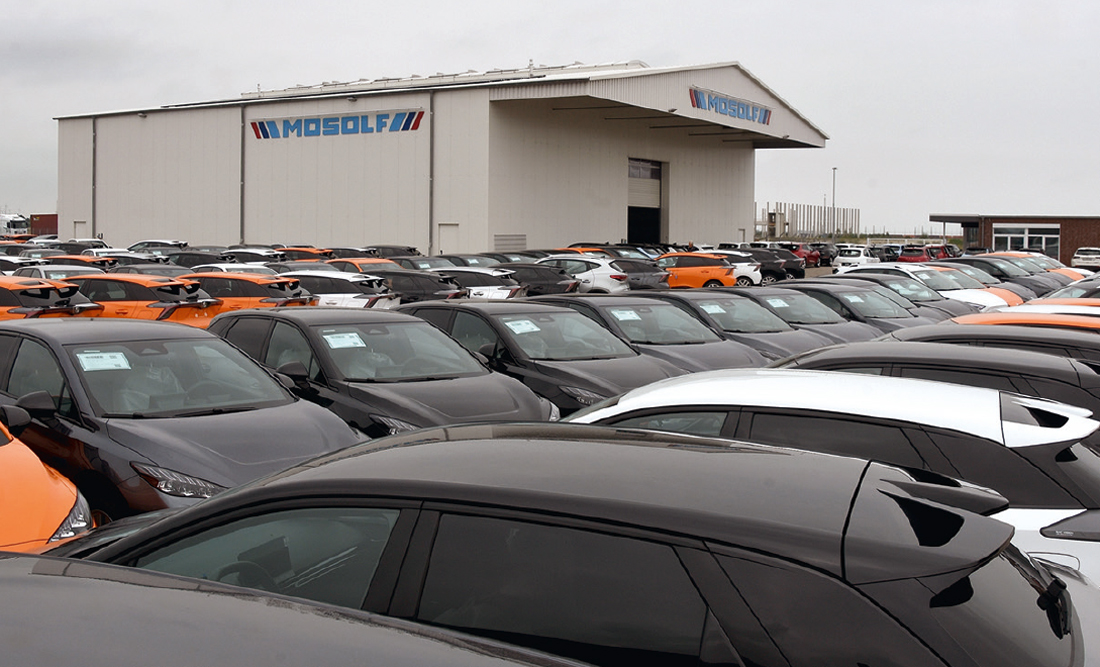 MOSOLF has space for several thousand vehicles in Wilhelmshaven.
Excelling with personal advice
The electric car market, which is currently under development, promotes progress in the new field of business. "Particularly when it comes to electric vehicles produced in Asia, no customer relationships have been established yet for overseas export," says the branch manager. Due to capacity shortages on RoRo ships, there is a high demand for good alternatives to the established transport options. "And that's exactly what we can offer, with a great deal of flexibility and personal advice."
But business in the field of automotive logistics is very volatile. "The demand for storage capacities increased drastically during the COVID-19 pandemic, as vehicles could not be delivered to end customers. Logistical needs fell again considerably due to a significant drop in production resulting from a semiconductor shortage." But the level of production has been solid again since the middle of last year.
In addition, special transports are currently in very high demand. As no investments were made during the pandemic, there is a lack of capacity on the rails for hinterland transport, which are important for the automotive industry, as well as on the road. That is why MOSOLF is investing in lorry capacity in Germany as a whole and in northern Germany. "Our advantage is that we're positioned to be very flexible," says Wenhold. "For example, our workshop is mobile, meaning we can use it in Wilhelmshaven and Cuxhaven."
At the beginning, for instance, the company performed delivery inspections, including a light test and charging level check, and equipped all the vehicles with winter tyres for a renowned car rental company that had imported 1,200 electric vehicles from China. "With this spot deal, we were able to prove that it works, as well as acquire long-term business," emphasises Wenhold.
MOSOLF handled nearly 4,000 TEU in Wilhelmshaven in August, with a medium-term goal of around 50,000 vehicles a year. But that will not be the end of the story by any means. According to estimates, the number of vehicles produced in China, which are then sold and transported to Europe are likely to nearly double by 2025 compared to 2022. That is a lot more potential for MOSOLF. (ch)
Mosolf Hafenlogistik
Gründung: 2020
Standort: Wilhelmshaven und Cuxhaven
Geschäftsfeld: Hafenumschlag und technische Dienstleistungen rund um Fahrzeuge
Mitarbeiter: 13