For Falk Schulte, Singapore is a veritable hub featuring a unique blend of players involved in the shipping industry. From the Southeast Asian city-state, the Harren & Partner expert reports on everyday working life since the beginning of the COVID-19 pandemic, future discussions on the topic of decarbonisation and his professional destiny.
Falk Schulte has been working for Harren & Partner (H&P) as their Asia/Pacific Representative and Senior Technical Superintendent in Singapore since June 2017. From his office there, he controls not only the technical management of the shipping company's own vessels, but also that of external shipping companies that have entrusted the use of their ships to H&P. For example, Schulte is currently responsible for a number of bulk carriers belonging to Oldendorff Carriers. This means that, with the exception of the crew, he takes care of almost everything required to keep the ocean giants running – from class certificates and spare parts supply to regular services, for example for safety equipment. He is also on hand to assist with all manner of technical problems on board the ships, either providing help and advice himself, or ensuring that the most suitable manufacturers or specialist companies are brought in to rectify the matter swiftly, allowing the ships to be operational again in a timely fashion. For a good 20 months, however, the 40-year-old's daily work routine has been considerably different. "In the years before the COVID-19 crisis, the ratio of office-based to on-board tasks was around 70:30. Since the pandemic has taken over our lives, this ratio has shifted significantly to the detriment of on-board activities," Schulte explains. Moreover, since the coronavirus outbreak, working at the office has become the exception rather than the rule, as he now works mainly from home. The rules in Singapore currently state that all tasks that can be performed from home must be performed at home, if doing so is at all possible. Alongside this, Schulte's travel activities, for example to inspections in Malaysia, Thailand or China, have come to a complete standstill. "Travel within Asia is still highly restrictive, especially as the return trip to Singapore almost always has a 10 to 14-day quarantine attached to it. What's more, Singaporean quarantine isn't just a friendly recommendation from the local health authorities; you're obliged to stay isolated inside your hotel room, you're not allowed to leave, and the only food provided is left outside your door three times a day for you to collect," Schulte continues. Indeed, Schulte believes he must have spent more than seven weeks in hotel quarantine in Singapore during the past 12 months, following business trips. "This kind of quarantine isn't really a holiday, but it's not like prison either – amenities such as room service function as normal, even in the quarantine hotels." Overall, though, Schulte tells us that he has felt much safer in Singapore since the outbreak of the pandemic than he has during his short returns to Germany. The Southeast Asian city-state adopted a great deal of preventative measures early on and has implemented them in a well-organised and consistent manner, which kept the number of cases very low for long stretches of the pandemic.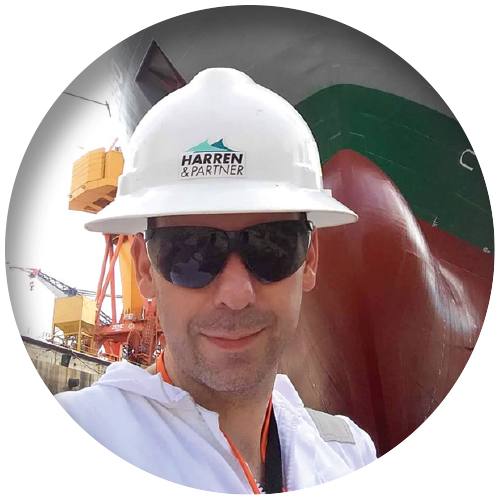 "Travel within Asia is still highly restrictive, especially as the return trip to Singapore almost always has a 10 to 14-day quarantine attached to it."
Falk Schulte, Representative Asia/Pacific and Senior Technical Superintendent at Harren & Partner
With special ships such as the 'Svenja', Harren & Partner operates worldwide. As Technical Superintendent, Falk Schulte (centre left), based in Singapore since 2017, keeps the ocean liners running.
"Exactly the right move"
From a professional perspective, too, he tells us that relocating to Singapore was "exactly the right move" for him, having already worked as a technical inspector for H&P in Bremen from 2008 to 2017. He confirms that his new home has the status of a genuine 'shipping hub' – nowhere else in the world is there a comparable density of shipowners, financial institutions, charterers, brokers, agents, shipyards and repair facilities. "The main advantages of my presence in Singapore," he explains, "are that I can respond more quickly to problems that occur on ships in the Eastern Hemisphere and visit them without having to travel for very long." For example, it only takes about six hours to fly from Singapore to northern China or Western Australia, which means at least a day's worth of time saved compared to travelling from Germany. "Plus you can access the networks I mentioned and the Asian corporate culture more quickly than you can from Europe – at least that's how it was before COVID-19," he adds.
Reducing speed and turning the light off isn't enough
Looking ahead, Schulte agrees that decarbonisation is inevitable. "I'm certain that this will probably influence the technical development of shipping in the next 10 to 20 years to a similar extent as the conversion from sailing ships to steam and, later, to motorised ships did back in the day," he says. "Accordingly," he clarifies, "the IMO's goal of reducing total greenhouse gas emissions from shipping by 50% by 2050 will not be achieved by making ships sail a little slower and teaching crews to turn off the lights when they leave the room. Instead, it will require fundamental technological advances, of which the use of LNG is likely to be quite a small step." According to Schulte's estimations, whether it will ultimately be hydrogen or ammonia competing for top spot as the main fuel, or whether there will be a variety of parallel solutions, each intended for specific applications, is still up for debate. "Life as an engineer is never dull!" he quips. It became apparent early on that this career was his calling. "When I was a kid," he reminisces, "I actually wanted to be a ship's captain, but my interest in technology took over during my school days. After leaving secondary school and serving in the German navy, I went on to study marine engineering." Following a few years spent on board the container ships of a well-known Hamburg shipping company as a marine engineer, he went ashore in 2008 and became an inspector for H&P in Bremen, before moving to Singapore in 2017. (bre)
Harren & Partner
Main areas of business: Heavy cargo transportation and engineering solutions, industrial logistics projects, vessel ownership and ship management services, offshore and salvage services, renewable energy logistics
Established: 1989
Headquarters: Bremen
Employees: 3,170 (approx. 2,900 sailors, approx. 270 employees on land)
Fleet: 84 units – consisting of heavy-lift carriers, bulkers, tankers, dock ships, container feeders, tugs, barges and offshore installation vessels