C3 Bremen launch with (from left): Frank Dreeke, Chairman of the BLG LOGISTIC Group Management Board; Andreas Bovenschulte, Mayor of Bremen; Robert Habeck, Vice Chancellor and Federal Minister of Economics and Climate Action; Maike Schaefer, then Senator for Climate Protection, Environment, Mobility, Urban Development and Housing; and Jörg Burzer, Member of the Mercedes-Benz Group Management Board.
The C3 Bremen is not only a logistics centre, it is also a groundbreaking project that sets high standards in environmental protection and equipment. Consequently, it serves as a blueprint for the future design of logistics properties.
Credits: BLG Logistics, BLG Jan Meier (2x)
Review: The C3 Bremen was opened on 2 May 2023 in Germany's largest freight transport centre, the GVZ Bremen, with Robert Habeck, the German Minister for Economic Affairs and Climate Action, and Andreas Bovenschulte, Mayor of Bremen, in attendance. Since then, around 550 employees have been preparing the worldwide shipment of Mercedes-Benz vehicle parts via the major German seaports in the logistics centre, which covers an area of around 80,000m², using the "Completely Knocked Down" (CKD)* method. According to Matthias Klawitter, Head of Mobility at BLG LOGISTICS and project manager of the C3 Bremen, which is run by his company, three qualities merge in the property. "At the C3, we have brought together the customer's high demands on us as a logistics service provider, environmental protection and sustainability, as well as an attractive environment for our employees." This is also reflected in the property's name – the three Cs stand for Customer, Climate and Comfort.
Customer means the best possible inventory management according to the customer's requirements. In this specific case, it applies to the needs of Mercedes-Benz. This also includes an array of technologies that feature a high degree of modular automation and digitalisation, such as a driverless transport system, automatic pallet preparation, smart conveyor technology and a put-to-light system to avoid incorrect packaging. Climate, meanwhile, refers to the fact that there is a sophisticated sustainability strategy behind the logistics centre, at the heart of which is Germany's largest uninterrupted rooftop photovoltaic system that extends over the entire logistics centre roof and generates 8.4 million kilowatt hours of solar power annually. This could supply 2,400 households with energy over this period. A holistic heating, hot water and ventilation concept, as well as comprehensive thermal insulation and smart lighting control, complement this environmentally friendly system. Behind the third C – Comfort – is the goal of creating the most pleasant working environment possible for the employees. This is achieved, for example, with an orchard containing native trees and a park with a pond designed as a dune landscape. Generous window elements and roof light strips, as well as moss walls and elements within the interior, also ensure a real feel-good climate.
*Info: The term Completely Knocked Down comes from the automobile industry. It refers to a method of manufacturing motor vehicles in which the components are delivered individually and assembled into a finished vehicle.
Using the "Completely Knocked Down" method, the C3 Bremen prepares Mercedes-Benz vehicle parts for worldwide shipment via the German seaports.
"A strong project," says Habeck
"Large-scale and holistic projects like this are exactly what we need to achieve our climate goals and lead Germany towards greenhouse gas neutrality," said Habeck at the launch. "A strong project that shows how future-oriented business and environmental protection go hand in hand." "The logistics centre is a visible component of BLG's sustainability strategy, namely to become climate-neutral by 2030," adds Matthias Magnor, Member of the Board of Management and Chief Operating Officer (COO) of the BLG Group. "Our targets for the total reduction of greenhouse gas emissions were acknowledged by the Science Based Targets Initiative 2020. This made us the first German logistics service provider with a scientifically recognised climate protection target."
The Mercedes-Benz Group likes the logistics centre's holistic concept so much that it presented BLG and C3 Bremen with its "Supplier Award 2023" in the "Sustainability" category in July. Magnor accepted the award in front of around 500 participants at the Mercedes-Benz Customer Centre in Sindelfingen. "This award means a lot to us," he said, "because the C3 Bremen is the outstanding result of our 30-year collaboration with the Mercedes-Benz Group. We're honoured to provide our services to a partner with whom we can complete such ambitious and pioneering projects for the future."
The experience gained from building the C3 Bremen will allow further such projects and logistics properties to be initiated in the future. However, BLG LOGISTICS is being tight-lipped about just how and where this will happen. "We've got various ideas but we're not ready to go public yet," says Klawitter. (bre)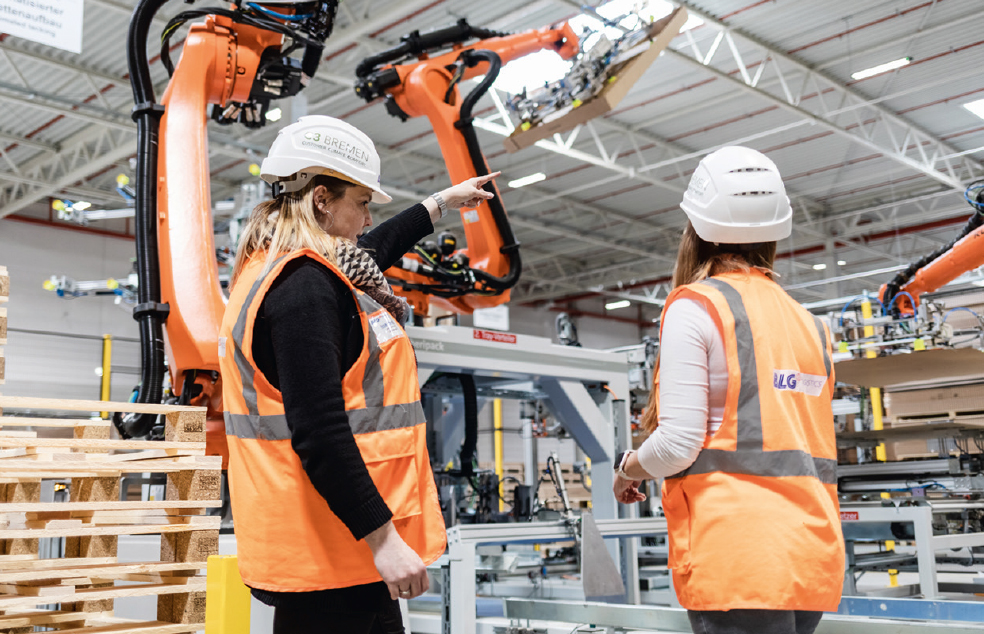 Driverless transport vehicles and industrial robots are used alongside employees in intralogistics at C3 Bremen.
C3 Bremen
Foundation laid: 14 October 2021
Official launch: 2 May 2023
Site area: 150,000 m²
Technical features: 24 driverless transport systems, automated measuring and weighing, narrow-aisle racking with 12 aisles and 23 rows of shelves, put-to-light order picking, moving-floor technology for truck loading and unloading, automatic packaging alignment system, 23,000 installed PV modules and 52 inverters.