The new China Logistics-Wilhelmshaven hub is being constructed on an area of around 20 hectares to the north of the JadeWeserPort freight village. In the long term, this would not only result in up to 100,000 TEU more cargo handling for the site, but could also create up to 250 new jobs.
Photos: JadeWeserPort, Starline/Freepik
In the best case scenario, you would have at least one compelling argument to convince customers to do business with you. During negotiations for the China Logistics-Wilhelmshaven Hub, there were as many as three. "We could especially score points with the size of our space, the expansion potential and the immediate availability," Andreas Bullwinkel reports. In February of this year, the Managing Directors of Container Terminal Wilhelmshaven JadeWeserPort Marketing (JWPM) and China Logistics signed the leasehold contract for the new hub. As of 2021, an area of 20 hectares will be used to transship Chinese goods.
But one thing at a time. Bullwinkel reports that "five and a half years ago, our representative Zhang Hui in China first made contact with representatives of China Logistics at a trade fair as part of his acquisition tours." As further discussions and negotiations took place, which also involved about 20 on-site appointments, it became clear that China Logistics wants to direct itself towards Europe and therefore needs its own FV. "In the beginning, the biggest challenge was to be able to hold our own against the established port in Antwerp with our then still small location," recalls the JWPM Managing Director. "However, contrary to the Belgians, we have the advantage of having unoccupied, available and ready to build areas in the immediate vicinity of the terminal." Additionally, Wilhelmshaven is the only German location to offer a deep water port. In the end, it was these unique selling propositions that convinced China Logistics, which has its headquarters in Beijing and is one of the largest logistics companies in China, operating 58 logistics centres with an area of around eight million square metres.
First operations are scheduled for spring 2021
However, before things can really get going, there are still a few administrative hurdles that need to be overcome. "We trust that the building application for the basic configuration of the 40,000 square metre hall will be processed quickly," Bullwinkel comments. "So far we have had very good experiences in Wilhelmshaven." The first phase will also include 110,000 square metres of uncovered storage space. The connecting track has already been laid; all that remains to be done by China Logistics is to lay the points and three or four parallel tracks with a length of about 250 metres. No time delays are to be expected here: "Construction companies are happy to take on such large-scale projects," the managing director emphasises. Overall, the construction work is expected to take about nine months. "Our aim is that China Logistics will be able to launch its first operations in April or May 2021." For this purpose, 100 million euros will be invested in the final expansion stage. In the first phase, costs amounting to 25 million euros are estimated for the hall and the uncovered storage area.
The first phase of the project involves the construction of a 40,000 square metre hall and 110,000 square metres of ­uncovered storage space on a 20 hectare building area for China Logistics' new distribution centre.
The China Logistics-­Wilhelmshaven hub is scheduled to start operations in spring 2021.
Supporting the Chinese in the acquisition
With regard to cargo segments, it is safe to assume that the Chinese will be the first to approach those that function the quickest. Bullwinkel expects that "automotives, for example, could be implemented relatively quickly." In this case, the rail connection from Wilhelmshaven could also become a source of interest for China Rail. "Stone goods and DIY goods could also be added for transport via ship, as the Chinese are already well connected in this market." When it comes to food, on the other hand, he believes it could take a little longer. The same applies to chilled goods, for which the Chinese have yet to establish themselves on the European market. China Logistics can rely on the assistance of JadeWeserPort for its sales activities there and in Germany, such as through joint visits to customers. "The Chinese are very grateful for our knowledge of the market," according to Bullwinkel. The extent to which the JadeWeserPort is involved here, however, also depends on who will become the operator of the hall. "Should it be a German or European company, we assume that the responsibility for distribution will fall into their hands, but we are happy to get involved if necessary."
Enough qualified employees
At present it is difficult to estimate when and how much additional cargo will be transshipped with the commissioning of the new hub in Wilhelmshaven. It is often not very transparent in the case of sea freight which end customers and forwarding agents are assigned to the respective cargo. However, one thing is certain: "Redistribution of existing cargo tends to be low at 2.5 to 3 percent," says Bullwinkel. "Nevertheless, the players change frequently, and additional quantities are also possible," Bullwinkel continues. This could especially impact the automotive industry, for instance in the case of electromobility suppliers, through whom additional cargo is brought to the market. Bullwinkel likes to keep a positive outlook:
"Should the two existing Asian services AE5 and AEU1 be joined by a third one with around 100,000 TEU per year, this would be a good incentive for EUROGATE to commence work on the final expansion stage of the terminal."
There is no doubt that the China Logistics hub will create new jobs for the Wilhelmshaven location. "We estimate 50 to 80 industrial employees following completion of the first hall," Bullwinkel reports. "Once the hub is fully expanded, up to 250 additional jobs could be created." Given the fact that Wilhelmshaven has an unemployment rate of around ten percent, which is significantly above the national average, there is no locational disadvantage in this case: "We have enough qualified employees," stresses Bullwinkel. In this case, the long-term planning also presents an advantage: "We are able to notify the employment agency at a very early stage as to which needs with which qualifications are required for the new hub, so that the job centre can start training and further education programmes well in advance." Since the new jobs and the increased cargo handling in Wilhelmshaven are more than just desired, his conclusion comes across as slightly more emotional than usual for a managing director: "We feel proud that everything worked out." (cb)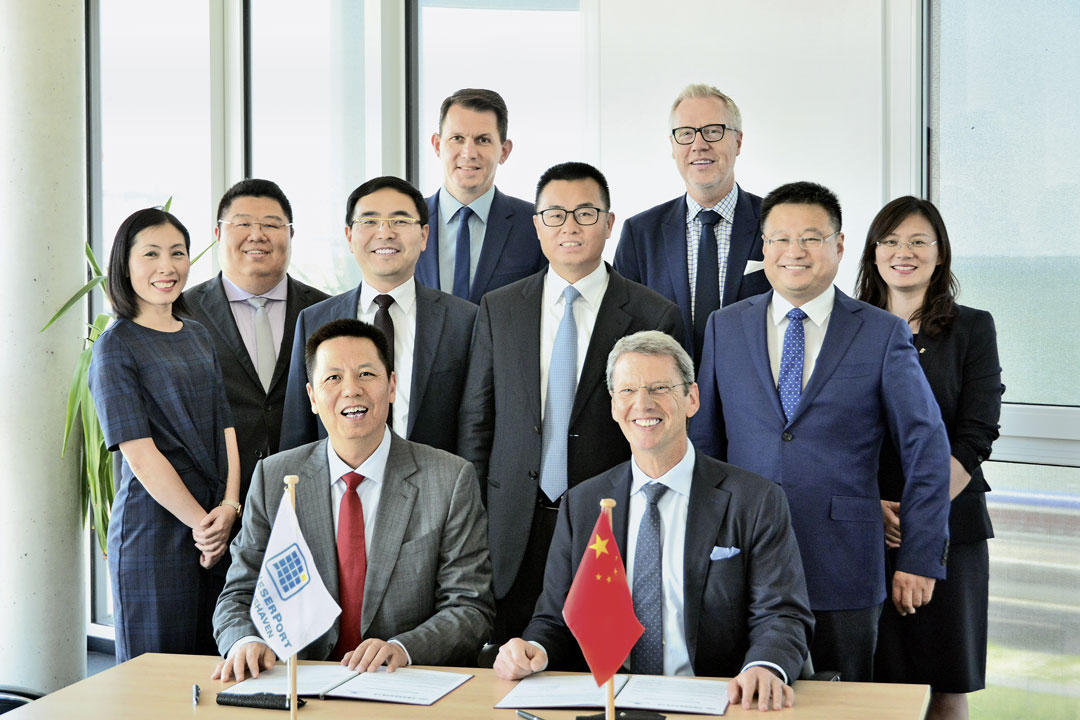 Both parties rejoice – shortly after the signing of the Memorandum of Understanding (MoU) in June 2019; front row: Li Xiangyang (CL General Manager) and Andreas Bullwinkel (JWPM); second row: Zhang Shuangyan (EUROGATE), Zhang Hui (JWPM), Wang Jingsong (CCT) and Tong, Laiming (Vice President CCT) as well as Fu Zixuan (CL) and Shi Stephanie (Weifang Centre Germany); third row: Jörn Kamrad (EUROGATE) and Ingo Meidinger (JWPM)