The number of potential faux pas is not automatically dependant on how close your business partner's home country is to yours. There are plenty of missteps that can be made in neighbouring Poland – whether it be toasting with the wrong phrase or choosing the wrong lavatory.
Credits: ISTOCKPHOTO/EFENZI/TOAMAP49, PRIVAT, DPG
Conducting business successfully in Poland requires a mix of knowledge and sensitivity. An organised schedule and good manners can also help in putting your best foot forward. These are some lessons learnt by Uwe Metschke – former Chair of the German-Polish Society (DPG) in Bremen from 2014–2021 and long-term resident in Poland – during his maritime and port-industry studies in Gdansk and his employment at the Interport organisation in Szczecin, amongst others. "There is room for confusion from the very first encounter if, like some Germans, you begin with a rigorous handshake rather than a slight bow," explained Metschke. He also advises against a kiss of the hand, countering the advice found in many travel guides to this day. "Nowadays, this only tends to be appreciated by certain members of the older generations. Even then, it's only recommended if a lady initiates by offering her hand," he clarified.
Hospitable family people
It is also widely customary in Germany to get straight down to business as soon as you step through the door. In Poland, however, it is worth beginning with some small talk to establish personal rapport. "It's completely acceptable to talk about family life and show pictures of your children on your phone. People in Poland are very family-oriented," explained Metschke. Furthermore, unlike in Germany, there is not such a stark distinction between personal and professional topics. This is evident when you are invited to a business meal at a restaurant or the home of your business contact. "In Poland, it is unthinkable that you would simply be driven back to your hotel after business hours at 5 p.m. Instead, they will host you until you fall into bed. This is part of Polish hospitality," said Metschke.
It is necessary to keep some principles of etiquette in mind in order to respect this. This includes refraining from jokes about the Pope or the Catholic Church. "It is also inappropriate to ask women about their age or to toast with the Russian phrase 'Na sdorowje!'. Especially in light of the current situation, Polish citizens do not like to be associated with Russia," explained Metschke. Since Polish people identify as Central Eastern Europeans, a simple "Cheers!" or "Zum Wohl!" is much more welcome. You'll get a positive reception in our neighbouring country by practising chivalry: by opening the door for women, helping them put on their coats or giving out measured compliments. "Polish women are used to being treated courteously," Metschke concluded.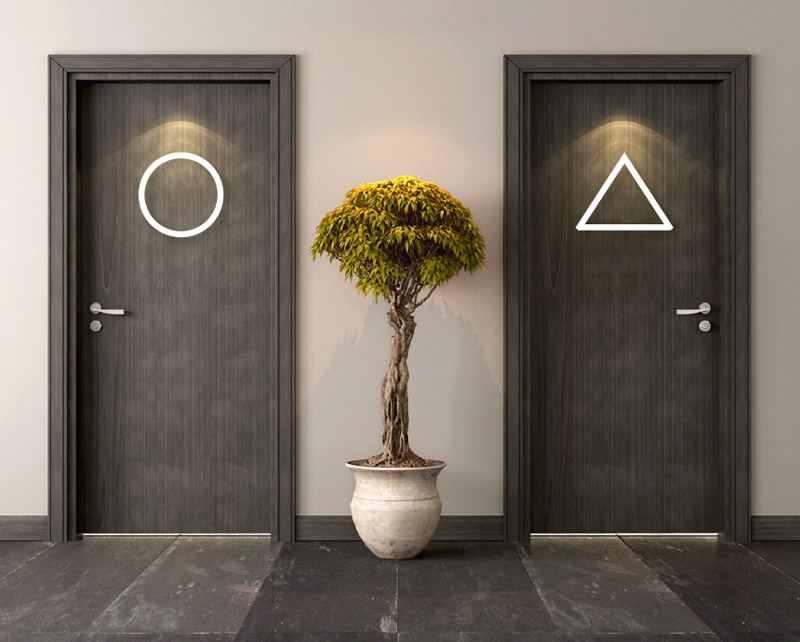 An unfamiliar sight for someone who has not yet been to Poland. The circle indicates the ladies' toilet, the triangle the men's.
Breaking cultural barriers and name days
Business dinners are the perfect setting to observe cultural differences that arise here and there. In Poland, there is a learnt culture whereby Poles often initially decline an offer of food or drink, only to accept it on the second or third time it is offered. Moreover, a "proper meal" always includes soup and dessert. "But asking for a second helping is considered improper and gives off distasteful undertones of freeloading," added Metschke. That said, complimenting the local bakery products or beer will be well received. But beware: "Polish beer has an alcohol content almost as high as Bock beer, and even one can quickly go to your head," warned the expert. If the drinking prompts a bathroom break, you will have another cultural barrier to contend with: some toilets will only be signed with a circle or triangle. "The circle indicates the ladies' lavatory, and the triangle the men's. If you forget this, you may have to wait until someone comes out," recommended Metschke.
"In day-to-day business, Polish businesspeople often prove to be skilled and tough negotiators, especially when it comes to deadlines and finances," he noted, and advised that such negotiations be conducted in English if possible. Bringing an associate who is fluent in Polish is an advantage. After all, they will be well aware of the commonplace issue of language barriers being used by natives to discuss matters privately, particularly in high-stake situations. To pre-emptively navigate this situation somewhat and score some extra points whilst doing so, you should simply throw some Polish phrases into the conversation. For example "Dzień dobry!" (in English: good morning), "Dziękuję!" (thank you), "Proszę bardzo!" (please), "Przepraszam!" (sorry) or "Trudno" (that's bad luck). "That way, not only will your host be pleased about your interest in the country, but they will also be unsure of exactly how much of the language you understand," Metschke added playfully. Another tip: if you're already successfully established in the Polish business sphere, you should make a note in your calendar of the name days of your business partners and gift them something small on this day. That is because name days are more important than birthdays in Poland.
Take part in the "baking"
With regard to the current political relationship between the two countries, Metschke concluded by quoting Marek Prawda, who is Head of Representation of the European Commission in Warsaw. When the Viadrina Prize of the European University was awarded to the cities of Bremen and Gdansk last year, Prawda stated: "The coalition of European states will be measured not only by whether everyone gets their piece of cake, but also by whether everyone can take part in its baking." For Metschke, this is the perfect analogy of how to best succeed, not just in politics but also in a business collaboration.(bre)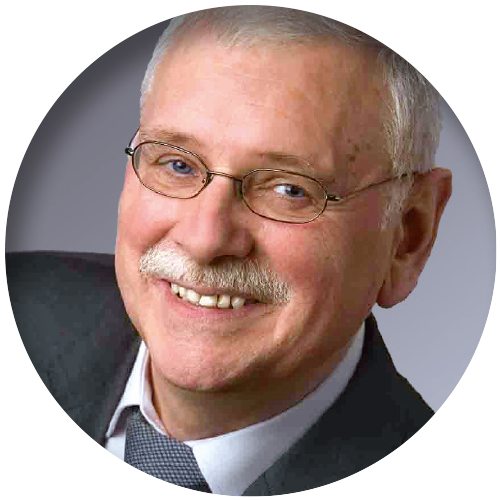 "A kiss of the hand is only appreciated by certain members of the older generations."
Uwe Metschke, former Chair of the German-Polish Society in Bremen
"Making the culture of modern Poland accessible"
Interview with Katarzyna Weichert, Chair of the German-Polish Society (DPG) in Bremen
Ms Weichert, on a scale of one to ten, with ten being the closest, how close do you feel the link is between Poland and Germany?
KATARZYNA WEICHERT: Poland and Germany have a special, close relationship, which is characterised by the bilateral relations in many different areas. Going off the close nature of interstate dialogue, in particular, and setting aside the differences in political stance and chequered history of the two countries, I would rate relations an eight.
How do you come to this rating?
KATARZYNA WEICHERT: This is due to several factors. Besides the growing dynamism of trade relations between the two nations, the main thing I have observed is the increasing social and cultural cooperation. This is reflected not only in partnerships between cities and regions, but also at the wider level of associations and private initiatives as well as the German-Polish and Polish-German societies. Not to mention the numerous school and university links, the university partnerships, and the long tradition of exchanges with various youth groups, for example the scouts. All of this has been a catalyst for growth in mutual respect and high regard for one another, and bears fruit regarding the friendly and straightforward relations between the countries.
How has the German-Polish Society in Bremen been involved in this process?
KATARZYNA WEICHERT: In three years' time we will be celebrating the 50-year anniversary of DPG in Bremen. We have been committed to improving German-Polish relations and fostering the cooperation of Bremen and Gdansk in city-twinning activities since December 1975. The key to achieving this has been maintaining close interaction and reciprocal visits. We bring people together by means of organised exhibitions, lectures, concerts, readings, film screenings and other events – with the aim of making the culture of modern Poland more accessible to everyone. We also promote German-Polish bilingualism and support children, young people and adults who are learning Polish in Bremen. In a nutshell, we're pretty much the place to go in Bremen for all things related to Poland.
What projects have recently been on your agenda or will be in the coming months?

KATARZYNA WEICHERT: In September we were busy with Polish Day, which we coordinated in collaboration with the Focke Museum and included a children's theatre performance on the environment and a reading. We will also be providing a varied programme in the coming months. For children, we are organising German-Polish playgroup sessions and a children's theatre workshop, which will be based on the Gothic genre. For young people, the programme will include a discussion about street art with our partner company TPN from Gdansk, along with other projects focussed on promoting multilingualism. Adults will be catered for with readings and concerts, and the Women's Forum will be taking place for the fourth time. The forum brings together women from Bremen and Gdansk to discuss their thoughts on various everyday issues.
Am I right in thinking that despite your praise of German-Polish relations, you still see areas that are definitely in need of improvement?
KATARZYNA WEICHERT: It is always wise to ensure we look ahead more and to bring future important issues into focus more, particularly when addressing future generations. They embody our future potential, as our future is ultimately in the hands of the people we meet today. On this note, the DPG intends to engage more actively on an economic level in the future than it has in the past. As such, we are hoping to establish a German-Polish economic forum in Bremen to place additional emphasis on the twinning between Bremen and Gdansk, which has existed since April 1976, in addition to the activities already mentioned.