To expand its business with the Maghreb, Cuxhaven-based shipping company BREB relies on finding local partners. The synergies created can benefit everyone involved.
Photo: BREB GmbH & Co. KG (3), iStockphoto: Olga Kurbatova
For the Cuxhaven firm of BREB and its long-serving managing director Arne Ehlers, North Africa is familiar territory. The region is served with two liner services from the Adriatic (BREB Adriatic Parcel Service) and from Northern Europe. In 2019, the shipping company also combined the BREB Continental Line with the Scaldic Med Line operated by its Belgian partner Boeckmans to form a joint service from Northern Europe to the Maghreb.
Multi-purpose vessels such as the Richelieu, chartered by the Briese shipping company, are used along with BREB C-class ships with cargo capacities of 4,000 to 9,000 tonnes. These operate every fortnight on rotation from the Baltic Sea via other ports in Germany, Benelux, Great Britain, France and the Iberian Peninsula to North Africa. Freight includes breakbulk cargo such as forest products, steel and bagged cement, project cargo, general cargo and containers. Contractual system transport can also be offered thanks to arrangements for northbound cargo.
A significant advantage is that the company has its own on-board loading gear. "This allows us to handle the cargo ourselves with shipboard cranes," says Ehlers. "This gives customers additional flexibility and also means we can transport heavy project cargoes."
The shipping boss is also encouraged by the level of demand. "At least six of our ships are constantly on the move in these services." The breakbulk segment in particular is seeing increased volumes. "In exports from Europe, we're seeing a lot of construction-related cargo, such as cement and pipes," says Ehlers. Exports from West Africa to Europe are mainly chemical products such as palygorskite, also known as attapulgite and formerly known as mountain leather, which is used for heat and sound insulation, and minerals, he said.
Thanks to the collaboration between BREB and Boeckmanns, efficiencies can be achieved. "The ships each operate under the line of the local partner on the routes of the Scheldt and the Elbe or the Weser," explains Ehlers. "In addition, we benefit from jointly acquiring new customers."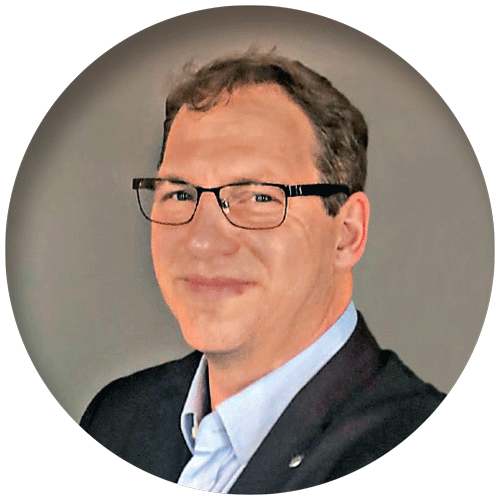 "The connection from North Africa to the Mediterranean is quick and easy."
Arne Ehlers, managing director of shipping company BREB
The BREB Star unloads salt for road de-icing in the Norwegian port of Bergen.
Vessel sharing agreement with Brointermed
Last year BREB formed a second partnership, this time with shipping company Brointermed Lines, which has been connecting North Africa and the Levant with Northern Europe, Portugal and Italy since the early 1980s. "After operating separate liner services from Europe to the Mediterranean for several years, we wanted to combine our activities to offer our customers more options northbound and southbound," says Ehlers. "We therefore formed a vessel sharing agreement." Monthly sailings for heavy lift, containers and general cargo can now be offered from Bremen, Harwich, Antwerp and La Spezia to the major Algerian and Libyan ports and back as part of a flexible on-demand service.
"In this service we're using the BREB Star for the first time as a heavy-lift vessel, which brings the advantage of having a capacity of up to 240 tonnes with two on-board cranes." Mainly standard containers are loaded, but also general cargo, project cargo and vehicles. The types of cargo here include consumer goods transported in containers, machine parts, equipment and construction vehicles. Rotor blades for onshore wind turbines are exported to Europe from the Mediterranean, and tower sections from Spain. "From Morocco we also ship phosphate derivatives and fertilisers, and in winter salt for road gritting and fish pickling for Norway," says the shipping boss. "But we have also transported contaminated soil to Norway."
Additional ship planned
Due to the high demand, Ehlers is currently looking for another ship: "By the time it gets to the North Range, the ship is often already full, and we are currently expanding our customer base." However, the freight market is currently almost empty and charter rates are extremely high. Ehlers thinks this market pressure was inevitable. "There was a backlog of maintenance and repair work, which has been exacerbated by the pandemic. It's all coming together right now."
But higher charter rates were overdue anyway. "For breakbulk ships, the rates over the past twelve years often didn't even cover operating costs." Nevertheless the shipping boss expects to get hold of additional tonnage in the second half of the year. "I think we have a good chance, especially as we're being supported by our parent company."

BREB
Origin: Bremen shipping company Eilemann & Bischoff founded in 1951
Head office: Cuxhaven (since 2014)
Subsidiaries: Bremen, Lisbon, Sassnitz and Zeebrügge (BREB Belgium)
Market: diversified shipping company with its own fleet and chartering, port agency and port logistics department.
Fleet: eleven of its own vessels and additional chartered multi-purpose vessels
Loading capacity per vessel: 4,000 to 9,000 tonnes
Operating area: three liner services around Europe and North Africa
Transport volume: over one million tonnes of cargo per year. Hafenlogistikabteilung
BREB Cuxhaven ships cement pipes to Brindisi, Italy.
Ehlers thinks there is currently no more cargo on the market. "But judging by the current level of infrastructure projects, especially in the US and now also in Europe, that will come. They will suck the market dry." In addition, previously frozen funds from the Libyan state are now being released. "Tripoli is being rebuilt and the oil industry and airport revived," he says. "From the second half of 2021 onwards, our partners are expecting huge volumes." And trade is already brisk. Compared to 2019, the increase in volumes – even excluding the oil industry – was at 70 per cent last year.
"We can support this, because Libya offers a stable market, contrary to what one might believe based on the media coverage," says Ehlers. The semi-autonomous port of Misrata, like the other Libyan ports, has been in operation throughout the recent upheaval. And social and economic life has also been normal there, while chaos and war-like conditions have raged in other parts of the country. And of course the customers paying for the service are not Libyans, but European exporters.
The market in Algeria, where the government imposed massive lockdowns due to the pandemic, causing volumes to plummet by 20 to 25 per cent last spring and summer, is also now recovering. "In the breakbulk segment, we expect growth of about ten per cent by the end of the year. Morocco, where vaccination has been rapid, is also developing positively."
Ehlers is therefore confident about the future: "I see two trends. Shipping companies will leave the trade because the traffic is quite uneven – at BREB 80 per cent of traffic comes from Europe. But overall I see growth." The real border in Africa is the Sahara. "The connection from North Africa to the Mediterranean is quick and easy," the shipping boss says. (cb)