When doing business in the Czech Republic, Slovakia and Hungary, a lot of small talk and the exchange of pleasantries are the order of the day. Only afterwards should business matters be discussed. In the Czech Republic, it can happen that Mrs Müller quickly becomes Mrs Müllerova.
photos: iStock/AntonioGuillem, privat
Strange but true: many business negotiations with partners in these countries often end before they have really begun. "Namely, when we Germans have once again walked through the door and wanted to score points directly with facts," stated Fritz Frey, trainer at the Centre for Intercultural Management & Diversity (ZIM) at Bremen University of Applied Sciences, where he has already prepared countless managers for a stay abroad in the so-called CEE countries. Instead, he advises: "Don't get too specific too quickly." The first meeting is first and foremost an informational meeting in which the focus on people clearly takes precedence over the focus on facts. Here the interlocutors from Central Eastern Europe carefully assess what kind of person the guest from Germany is. During the course of this meeting, they aim to find out whether they are on the same wavelength or not. "Even if all the factual conditions are in favour of a business relationship afterwards, it can happen that the hosts renounce the same because the chemistry has not developed as they would have wished," Frey pointed out.
"Always wear fresh socks"
If you want to avoid precisely this, you should be prepared to build relationships by revealing information about yourself and, at the same time, taking interest in your counterpart. "Culture and sport are the most suitable small talk topics. Political topics are themes best left alone. Nevertheless, points can be scored by talking about hobbies and your own family," said Frey. It is also not a bad idea to acquire some knowledge of the respective business partner's country or to enquire about the correct pronunciation of the name. In general, it is important to keep in mind the following: in the countries concerned, great importance is attached to the use of titles; Frey even speaks of an "almost inflationary use" in this respect. The traditional suit and dress also have a firm place in business life there. The ZIM expert also advises: "Always wear fresh socks".In the Czech Republic, Slovakia and Hungary, it can happen that a business partner invites you to a private dinner. There, slippers are ready and waiting for the guest, as it is appropriate in this region to take off one's own shoes before entering the apartment. Clean socks without holes could therefore possibly be conducive to later business success.Indeed, it is not only on such occasions that mixing business with pleasure is quite typical for these countries. In the event of an invitation to someone's home, Frey recommends bringing gifts with a connection to one's own city or region, plus flowers and chocolates for the hostess or host's wife. "If you're from Bremen, you'd be well advised to bring a gift featuring the Town Musicians of Bremen; if you're from Lower Saxony, you're sure to find a great gift with a horse theme. And if you come from a wine-growing region, you should have a good drop of wine in your luggage," commented Frey. As far as addressing the person is concerned, this is usually with the surname or the corresponding title. But it is also not unusual to address people by their first names – especially among younger business partners. This can be understood as an expression of sympathy. "In the Czech Republic, women can expect to have an "-ova" often added to their surname. So Müller and Meier quickly become Müllerova and Meierova. But these are precisely the moments that provide the best starting points for small talk," added Frey.
Different communication styles
If you wish to avoid problems on the relationship level in the course of a conversation, you should avoid openly expressing differences of opinion and starting debates. This applies to all three countries, but especially to Hungary: "There, criticism of the matter is often also taken as criticism of the person, which does not go down well," said the expert. In his opin-ion, this sometimes shows the temperament of the former Hungarian equestrian people of the Magyars, who could well be called the "Italians of the East". However, in order not to be misunderstood, Frey explicitly points out that such statements are personal experiences and not generalisations or stereotypes. "We know that not all Germans are punctual either," he said with a twinkle in his eye. To him, the fact that Czechs and Slovaks are more likely than Hungarians to adopt a conflict-avoidance strategy has historical reasons. "These nations have kept out of almost all armed conflicts over the past 600 years," explained Frey. This kind of diplomacy is also reflected in their wording at meetings. For example, the words "uvidime", which means "we'll see", or "možná", which corresponds to our "maybe", are heard much more often than here.
Deadlines are only "indicative
The seemingly unreliable time management in these countries has also been a major headache for many business trav-ellers. That's why Frey explained: "Project deadlines and milestones are understood there as rough guidelines. Failure to meet these benchmarks is not a reason for people to rush or even panic." This attitude sometimes comes at the expense of planning security, but it also has historical reasons. "Since the regimes in these countries changed frequently over the past century, people there could neither rely on the state nor on stable framework conditions, but only on themselves. This attitude gave rise to great flexibility and adaptability, which is also demonstrated in the way they work today. If you internalise this, you can act in a much more relaxed way," continued Frey. Accordingly, a good portion of understanding is a helpful travel companion on a business trip to Central Eastern Europe, in addition to a sure instinct for small talk and fresh socks. (bre)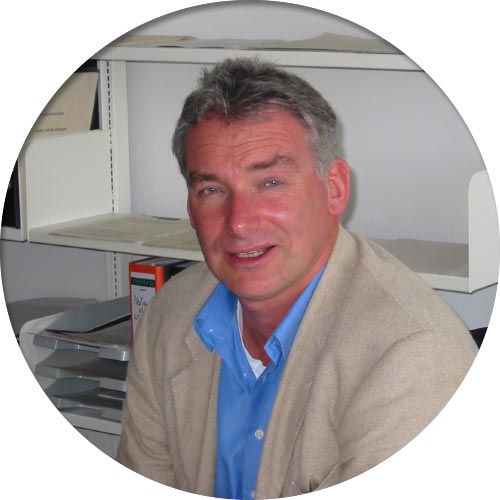 "Always wear fresh socks."
Fritz Frey, Trainer
Centre for Intercultural Management & Diversity (ZIM) at the University of Bremen