At the end of the 1950s/beginning of the 1960s, the number of cars loaded in Bremerhaven began to grow steadily. The VW Beetle was a particularly sought-after export.
Bremerhaven is one of the most important RoRo ports on the continent. For shipping company Wallenius Wilhelmsen, it's not just an important hub for services to North America, but also the equipment hub for all of Europe.
Photos: Georgia Port Authority, Mund + Bruns, Wallenius Wilhelmsen
The relationship between the shipping company and the port began as Germany began to produce more in more cars in the post-war period. In the 1950s, with German-made cars in demand all over the world, the demand for maritime transport increased rapidly. The Norwegian shipping company Wilhelmsen and its Swedish competitor Wallenius also started to use Bremerhaven. Initially cars were hoisted on deck with the aid of a shipboard crane, but loads were limited to one thousand vehicles. It was not until the RoRo ships emerged in the 1970s that capacity increased to around 5,000 units. The importance of Bremerhaven as an export hub for the German automotive industry increased accordingly.
At the same time, the company Wallenius Wilhelmsen, which was formed in 1999 when the two companies merged, became a market leader for vehicle transport by sea. Today, 9,400 employees work here worldwide and load 4.5 million units per year.
As the number of vehicles grows, so does the size of the ships. A few years ago the capacity limit of RoRo freighters was around 4,000 to 6,000 CEU (car equivalent units), but is now around 8,000 CEU. "But these ships are no longer used just for vehicles," says Axel Bantel, managing director of Wallenius Wilhelmsen Ocean in Germany. "On board we carry not only rolling goods but also static goods that are rolled over the ramps on board with trailers and other specially developed loading equipment." The German automobile manufacturers are still among the shipping company's key accounts, but there have been significant changes in cargo flows. "Over the past ten to fifteen years, German manufacturers have increasingly built plants overseas," says Bantel. "Since then, Bremerhaven has also gained in importance as an import port.
In addition to the traditional imports from the Far East, an ever-increasing proportion of the cargo comes from the US. "Many car companies have moved closer to key markets in the US to produce popular models such as SUVs there," says Bantel. "Since demand in Europe has grown, they have been imported." The ports in North America served by the shipping company all have equal importance, from Halifax in Canada, Baltimore and New York to the Gulf of Mexico and through the Panama Canal. Manzanillo in Panama is the largest transhipment hub for South America, offering feeder services and direct connections to the US West Coast. "We are the only shipping company that serves all economic regions in North America directly from Europe," says Bantel. "Our customers supply the American market in New York, California and the Gulf, where infrastructure equipment in particular is shipped to." Wallenius Wilhelmsen currently calls at twelve ports in North America. There are normally fourteen departures per month between Europe and North America, with Bremerhaven being the first port. Last year, a total of 124,000 cars were exported to the North Atlantic region, and 92,673 were imported.
Wallenius ­Wilhelmsen
1999: Merger between the shipping companies Wilhelmsen of Norway (founded 1861) and Wallenius of Sweden (founded 1934)
2017: Merger to form Wallenius Wilhelmsen Logistics (WWL) including EUKOR, WWL, American Roll-on Roll-off Carrier (ARC) and the ships belonging to Wilhelmsen and Wallenius
2018: Group renamed Wallenius Wilhelmsen, while WWL is restructured into Wallenius Wilhelmsen Ocean and Wallenius Wilhelmsen Solutions. EUKOR and ARC become part of the group, but operate under separate names.
Head office: Lysaker near Oslo
Employees: 9,400 in 29 countries
Sea transport: 4.5 million units per year at 11 terminals
Handling, Bremerhaven 2019: 865,985 units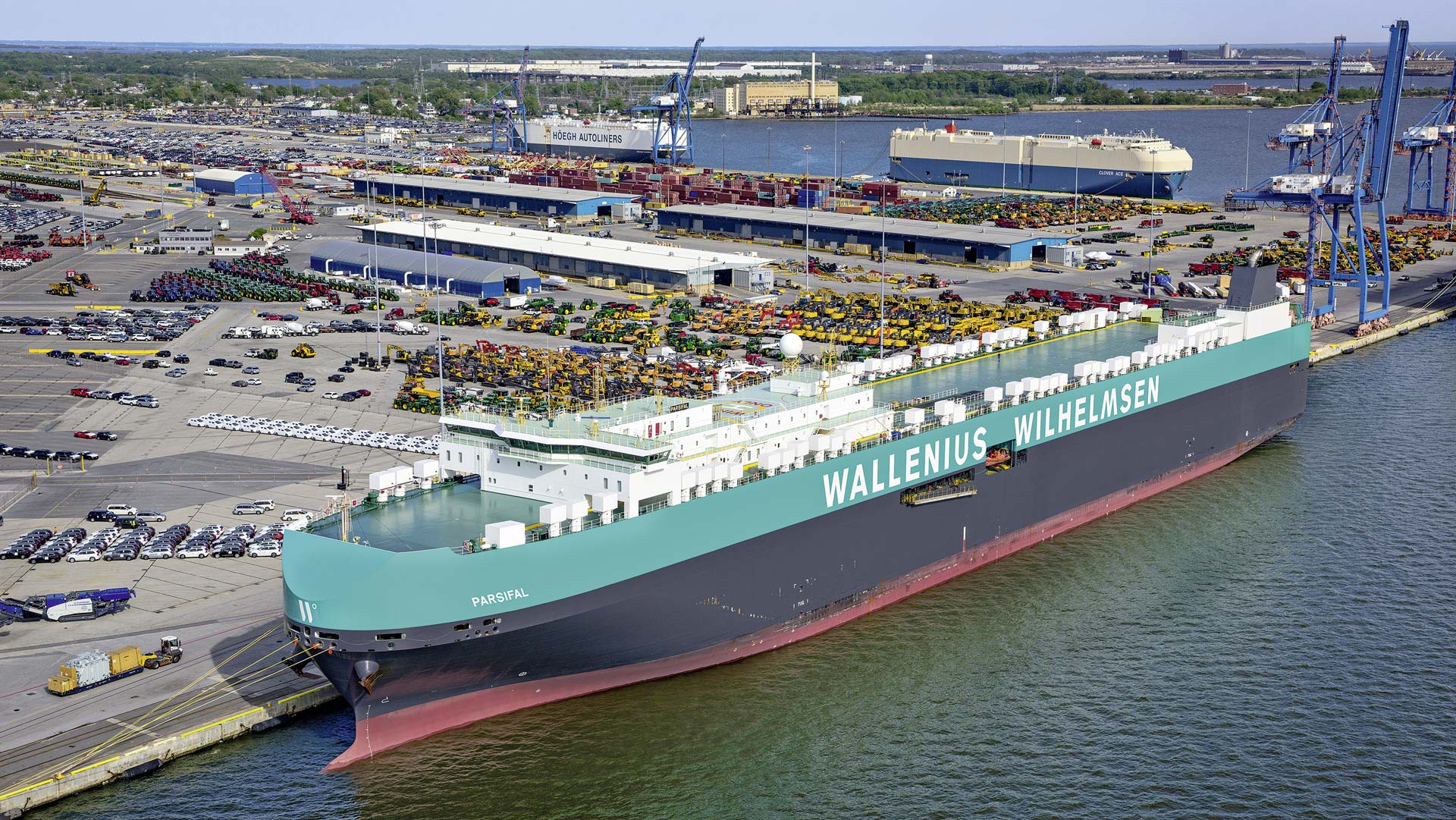 The port of Baltimore is regularly called at by the Parsifal, built in 2011. As a PCTC (pure car and truck carrier) it offers space for around 6,000 vehicles over nine decks.
The pandemic is having an effect on import and export volumes to and from North America. "In April and May, plants in the US and Europe cut back on car production," says Bantel. Demand has also been lower overall. "Compared to normal volumes, we were at forty percent overall." Although the shipping company continued to serve all markets, the frequency of deliveries was greatly reduced. The prevailing imbalance of cargo between the US and Europe has been exacerbated by the pandemic. "General cargo is almost exclusively exported from Germany, there is hardly any import", explains Bantel's colleague Carsten Wendt, senior manager of high and heavy and breakbulk sales in Germany. The cargo mix in exports has also changed. "We have fewer cars and more high-and-heavy and breakbulk cargo," says Bantel.
Breakbulk and automotive handling specialists
Bremerhaven has a great deal of experience in handling this type of cargo. "We have trained staff, specialist companies such as handling and packaging companies, and stevedoring operations on site," says Wendt. "Not everyone can do breakbulk." This is another reason why Bremerhaven, with its extensive cargo base, is one of the largest breakbulk ports in the world. Equally beneficial is the fact that the port is equipped with Mafi trailers. "Many of them are stored and serviced in Bremerhaven," reports Wendt.
Bremerhaven is also a major automotive handling site. Alongside Southampton and Zeebrugge, the port on the Weser occupies a central position in the Wallenius-Wilhelmsen Group's Northern European network. It scores particularly well in rolling cargo infrastructure. "The site has space for 100,000 units, 50,000 of which are covered," says Frank Grunau, managing director of RoRo Stevedores in Bremerhaven, which currently employs one hundred people. "For high and heavy, there are stowage facilities on 300,000 square metres of outdoor space and 20,000 sheltered." In addition, there are five RoRo berths, each with a draught of eleven metres, in the Nordhafen and Kaiserhafen. Bremerhaven is also an important site for spare parts, repairs and other technical services.
Bremerhaven boasts five RoRo berths in the Nordhafen and Kaiserhafen ports, each with a draught of eleven metres.
Due to the importance to Wallenius Wilhelmsen of Germany's second largest seaport, the shipping company lays particular emphasis on the availability of services. "While we used to buy in port services, after the company was established at the beginning of 2013, we gradually took them over ourselves," says Grunau. "In the meantime, apart from the terminal operator's role, these services have expanded, from stevedoring and ship clearance to agency and technical services for the ships." This is not because the other providers are inferior, but because, by bringing the services in-house, the company can keep control of its key business areas. "The biggest advantage for our customers is that we can provide everything from under one roof, from planning, loading and unloading to stowing and lashing," says Grunau.
Both at Bremerhaven and for the company itself, environmental protection is becoming increasingly important. Since 2019, Wallenius Wilhelmsen has been a member of the Getting to Zero 2030 Coalition, whose aim is to bring a zero-emissions ship to market by 2030. The shipping company also works with customers and partners from science and industry to promote sustainable, carbon-neutral biofuels. In partnership with Wallenius Marine, the Group has set itself the goal of putting the first wind-powered RoRo ship into service by 2022. This will be particularly welcome in Bremerhaven, as the port aims to remain a European standard bearer for climate neutrality. (cb)