Just a few months ago, 'The Economist' named Italy 'Country of the Year 2021'. Yet, on the Italian peninsula, too, the economic upswing has been slowed down by the effects of the war in Ukraine. However, the country has a plan.
Credits: ISTOCK/ARTBALANCE, TRAVELER1116, DEUTSCH-ITALIENISCHE HANDELSKAMMER; GTAI-STUDIO PROKOPY
Every year, the journalists of the British magazine The Economist select the country they think has improved the most over the previous twelve months. Last year they chose Italy – in part because the Italian economy has recovered significantly under Prime Minister Mario Draghi. Trade between Germany and Italy has also boomed. Together, the two countries enjoyed a trade volume of over 142.5 billion euros in 2021, setting a new record. In 2021, Italian exports to Germany totalled 66.9 million euros, and trade in the opposite direction accounted for 75.7 billion euros. "The success of the Italian economy centres on Germany as its most significant trading partner," explained Jörg Buck, Executive Board Member of the German-Italian Chamber of Commerce in Milan. "For its part, Italy is one of Europe's economic engines and Germany's sixth most important trading nation. In 2021, of all countries with which Germany maintains trade relations, trade with Italy grew by 22.7 per cent. Only with Belgium did trade develop more intensively during this period," Buck concluded. He sees, in particular, the industrial sectors as economic drivers – for exports from Germany to Italy, these are chemicals/pharmaceuticals, automotive as well as electrical engineering and electronics. In the opposite direction, these are mainly the steel industry, machinery and also chemicals/pharmaceuticals.
In the course of this development, Italy was the EU Member State with the third highest gross domestic product (GDP) after Germany and France last year, amounting to 1,775 billion euros. Accordingly, at the beginning of this year, many experts were optimistic that the Italian economy could return to the level it had before the Covid-19 pandemic by mid-2022 and that the country's GDP could climb above the 4 per cent mark. However, Russia's war of aggression against Ukraine and its impact on the global economy have long since overturned all such forecasts. "This May, the EU Commission published a forecast in which it assumed Italian GDP growth of 2.4 per cent in 2022 and 1.9 per cent for 2023 in light of this difficult situation," said Oliver Döhne, Director Italy and Malta at Germany Trade and Invest (GTAI). "Even this estimate seems quite optimistic to me, however. If price pressures on energy, raw materials and intermediate products continue, the GDP could be even lower," Döhne predicted.
'It's the mix that makes it'
The importance of Italian ports for the safe movement of goods in these times is shown, among other things, by the fact that the country was the third-largest cargo port nation in Europe last year with almost 500 million tonnes of goods handled – only the Netherlands and the UK handled more. This is despite the fact that none of Italy's ports currently rank among Europe's ten largest. "Italy has a large number of medium-sized and smaller ports that handle a wide variety of goods. The bottom line reflects this in a considerable sum, which is why you can confidently say that 'It's the mix that makes it'," stated Buck. Against this background, Trieste overtook Genoa for the first time last year as the country's port with the highest throughput, followed by Gioia Tauro, Livorno and Cagliari-Sarroch (see page 4). Like Buck, Döhne emphasised the importance of the maritime sector for the Italian economy, but has also identified some weaknesses. "More than a third of Italy's foreign trade passes through the ports, especially exports to the USA and imports from China," he explained. Italy's ports are strategically interesting as gateways to the EU and for short-sea shipping in the Mediterranean However, some are outdated and not optimally connected to other means of transport. Plus, there are lengthy approval processes and little digitalisation so far."
Three recognised experts on Italy, Hellmann Worldwide Logistics, Rhenus Road Freight and Gruber Logistics, report on further challenges associated with Italy as a business location below. In the course of their explanations, they also explain which transport hubs and carriers play the decisive role in their business fields.
Bottlenecks and hopefuls
Since the 1980s, Hellmann Worldwide Logistics has been offering regular land export and import transportation between Germany and Italy. As a founding member of the pan-European general cargo cooperation System Alliance Europe, the company can draw on a network that has grown over decades. Besides the main focus on land transport, sea and airfreight transports to the Italian peninsula have also been part of Hellmann's portfolio of services since 2006 – via its independent Italian partner Hellmann Worldwide Logistics S.p.A.
"Italy is the fourth largest logistics market in Europe, which makes it a very interesting market for us. We primarily transport consumer goods, spare parts, chemical products and machinery, also for multinational customers," reported Jens Tarnowski, Regional CEO Europe at Hellmann. The six strategically well-located System Alliance Europe hubs in Como, Bolzano, Padua, Modena and Prato, as well as in Arluno, north of Milan, are of particular importance for overland transport. "It's from there that the fine distribution then takes place," stated Tarnowski. Concerning the current situation, the logistics expert clarified: "Crossing the Alps bottleneck is and will remain a challenge for land logistics, especially since the road routes have been increasingly regulated in recent years. Added to this are the shortage of drivers and the rising fuel costs for lorries." In the spirit of sustainability, this is why Hellmann is planning to rely more on the railway in the future. "I'm certain that the completion of the Brenner base tunnel will ease the situation considerably and make rail transportation even more attractive," added Tarnowski.
In the case of sea and land transports, one of the benefits is that Hellmann Worldwide Logistics S.p.A. has global experience and also has its own branches in Milan, Turin, Vicenza, Genoa, Bologna, Florence and Naples. "Milan-Malpensa is the largest commercial airport for airfreight, while Genoa is the Mediterranean hub among the ports," Tarnowski continued, giving an overview of what he calls his company's 'main entry points' into Italy. In this context, he also mentioned Italy's good connections to northern Germany. "There are daily liner services to Italy and back from the ports in Lower Saxony and Bremen,' Tarnowski said
"Italy is one of Europe's economic engines."
Jörg Buck, Executive Member of the Board of the German-Italian Chamber of Commerce in Milan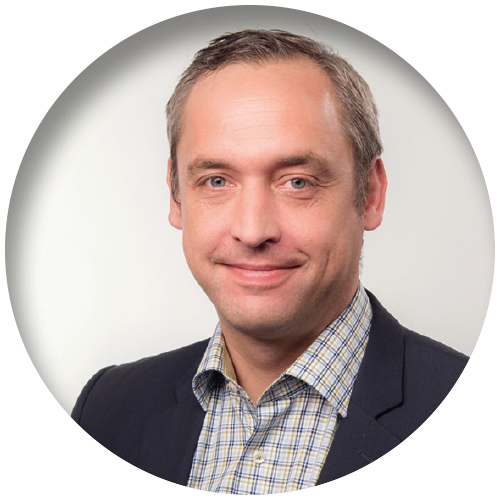 "More than a third of Italy's foreign trade passes through its ports."

Oliver Döhne, Director Italy and Malta at Germany Trade and Invest (GTAI)
There's much to be done to complete the BBT – such as slope removal work here on the Bergisel to build the 'Silltal' pre-tunnel.
Credits: BBT SE, HELLMANN WORLDWIDE LOGISTICS, GRUBER LOGISTICS
In the case of sea and land transports, one of the benefits is that Hellmann Worldwide Logistics S.p.A. has global experience and also has its own branches in Milan, Turin, Vicenza, Genoa, Bologna, Florence and Naples. "Milan-Malpensa is the largest commercial airport for airfreight, while Genoa is the Mediterranean hub among the ports," Tarnowski continued, giving an overview of what he calls his company's 'main entry points' into Italy. In this context, he also mentioned Italy's good connections to northern Germany. "There are daily liner services to Italy and back from the ports in Lower Saxony and Bremen,' Tarnowski said.
Millions invested in Trieste
Gruber Logistics, headquartered in Ora, South Tyrol, Italy, offers logistics services in the areas of full and part loads, special transports, air and sea freight and industrial relocations. "We've been operating by road and rail along the German-Italian corridor since the company was founded in 1936. We handle around 60,000 consignments per year on this route, 25,000 of them in the course of our multimodal services," summarised Martin Gruber, CEO at Gruber Logistics. Heavy and high transports for the energy sector, the oil and gas industry and the manufacturing industry are in particular demand on this route. In the context of general cargo traffic, the goods range from furniture and household appliances to foodstuffs and steel.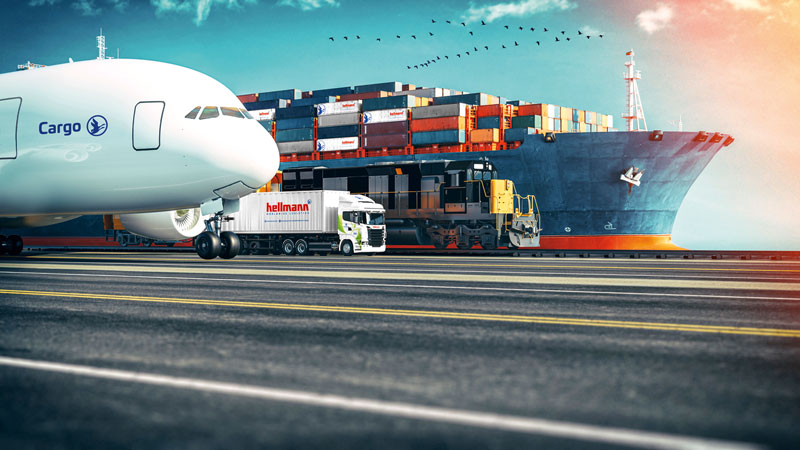 Hellmann Worldwide Logistics portfolio of services includes both air and sea freight transportation and land transport.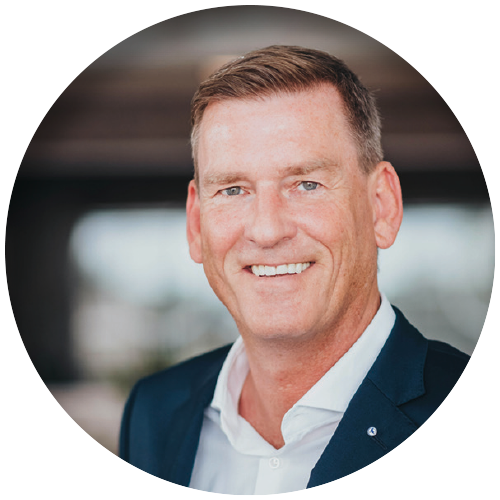 "Crossing the Alps bottleneck is and remains a challenge."

Jens Tarnowski, Regional CEO Europe at Hellmann
Traffic shift to rail envisaged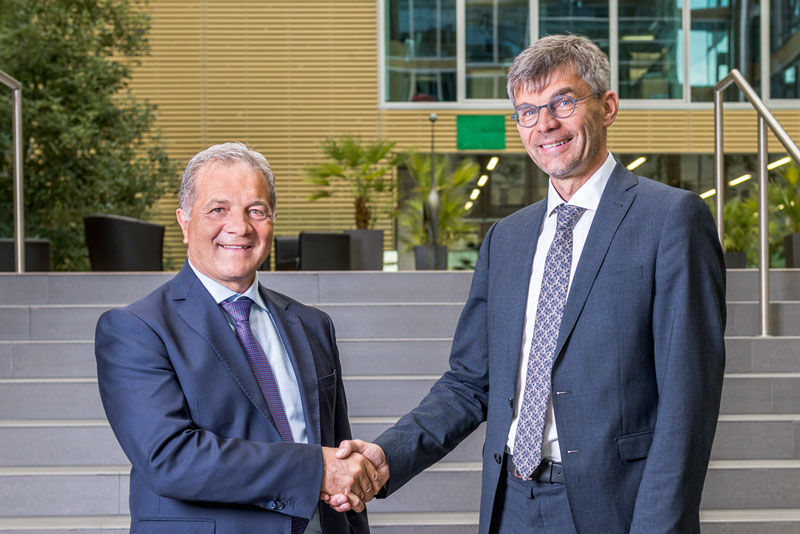 Gilberto Cardola (left) and Martin Gradnitzer are the joint directors of BBT SE.
Interview with BBT board members Martin Gradnitzer and Gilberto Cardola
LOGISTICS PILOT: Almost two-thirds of the 230-kilometre Brenner Base Tunnel (BBT) system have already been excavated. What does the railway tunnel between Innsbruck and Fortezza mean for traffic and logistics in Austria and ltaly in the future?
Gilberto Cardola: This European infrastructure construction under the Alps will play a significant role in achieving a modal shift from road to rail in the future. Around 2.5 million lorries currently travel the Brenner route every year, and the trend is rising. Bilaterally, we are working daily to realise this state-of-the-art railway facility as quickly as possible for the benefit of the population.
Martin Gradnitzer: The Brenner Base Tunnel is designed to handle 400 trains per day at the Brenner cross-section. At present, 136 trains per day can run on the existing line over the Brenner. 82 of these are long-distance goods trains. This means that the BBT will more than triple this capacity.
LOGISTICS PILOT: What's so special about this project?
Martin Gradnitzer: The advantages of the flat railway compared to the existing outdated line over the 1,371-metre-high Brenner Pass are obvious: longer trains – 740 metres instead of the current 450 metres – with significantly higher loads – 2,000 tonnes instead of the current 1,400 tonnes – will be able to travel the route between Innsbruck and Fortezza, which has been shortened by 22 km, about an hour more quickly.
Gilberto Cardola: In terms of construction, the 'exploratory tunnel' is definitely unique to our tunnel system. The tunnel, which is located twelve metres below the centre of the main tunnel and has an internal diameter of six metres, is not only used as a preliminary tunnel to explore the geology so that the main tunnel tubes can be excavated more efficiently – it is also used later in the operating phase for drainage, cleaning and service purposes. This creates significant advantages, as the main tunnel tubes do not have to be closed to do this.
LOGISTICS PILOT: On your website you talk about numerous measures in tunnel construction 'that bring improvements for people and the environment'. Can you give examples of these?
Gilberto Cardola: By this we mean the 'compensatory measures' that result from our effort to protect the environment and the residents along the project area as best as possible so as to compensate for the effects of the construction sites and the work on site. Long before construction began, BBT SE began collecting relevant data on fauna and flora, agriculture and forestry, air and noise, and water along the Brenner corridor. This detailed documentation helps to identify any changes during construction and afterwards and to compensate for them if necessary.
Martin Gradnitzer: One example is the Padaster Valley – in this side valley of the Wipptal, construction work on the Brenner Base Tunnel is depositing around 7.5 million m³ of excavated material, creating Europe's largest excavated earth landfill. When BBT SE completes the backfilling and subsequent renaturation and reforestation, the hardly usable V-shaped valley with its narrow valley floor and high mountains will be transformed into a wider U-shaped valley that is much more suitable for alpine pasture farming. In addition, activities to generate electricity and install an elevated water reservoir for the local community were implemented in this area, and extensive flood and avalanche defences were built there.
10.7-metre in diameter boring head of tunnel boring machine (TBM) 'Virginia'.
Credits: GRUBER LOGISTICS, RHENUS, ROAD FREIGHT, ISTOCK/KAVALENKAVAVOLHA
Like many other transport companies offering their services between Germany and Italy, Gruber Logistics relies on travelling either via Switzerland or Austria. This means that the company is involuntarily confronted with the fact that both countries are trying to cope with the growing volume of traffic on their roads by imposing various restrictions that include night-time driving bans, sectoral bans and block clearance before and after public holidays. "We have long relied on multimodal solutions and thus increasingly on rail as a mode of transport. But it is becoming increasingly apparent that rail operators, in particular, are overloaded with the volumes to be handled," explained Gruber. Consequently, additional solutions must be found on the road that take sustainability into account. Gruber Logistics has already taken two major steps in this direction. "Firstly, we qualify for sustainable road transport because we use various alternative fuels such as LNG, bio-LNG and biodiesel. Secondly, we have just introduced the first electric truck to Italy," Gruber continued.
In late 2021 Gruber Logistics also announced that it will invest 3.5 million euros in the expansion of its branch in Trieste. This step is primarily intended to strengthen the company's intermodal transports from the Benelux countries to Turkey via Italy, Germany and Austria. "We decided on Trieste because the port there is an important transhipment centre in the Mediterranean region with good rail connections to the hinterland – especially to Austria, the Czech Republic, Hungary and Turkey," the CEO explained. In view of the increasing capacity bottlenecks and delays in the western ports, the company is also convinced that the importance of the Italian ports will continue to grow.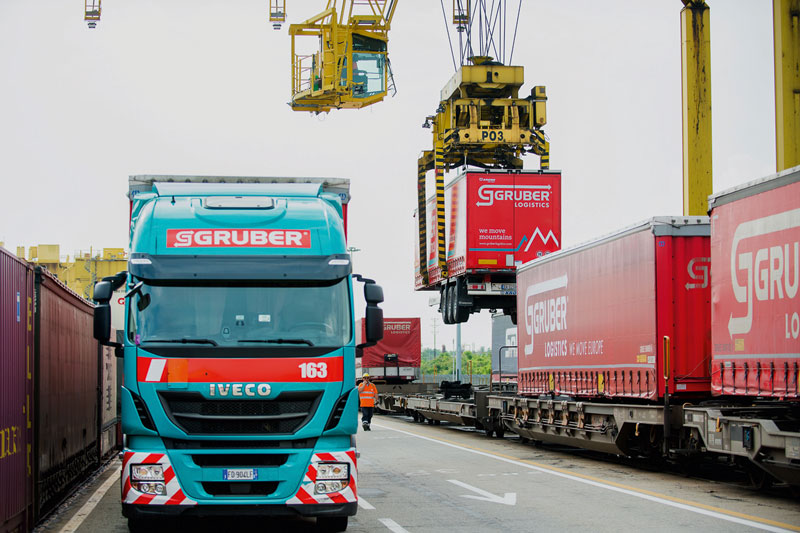 25,000 of the 60,000 consignments transported by Gruber Logistics between Germany and Italy every year are carried out as part of its multimodal services.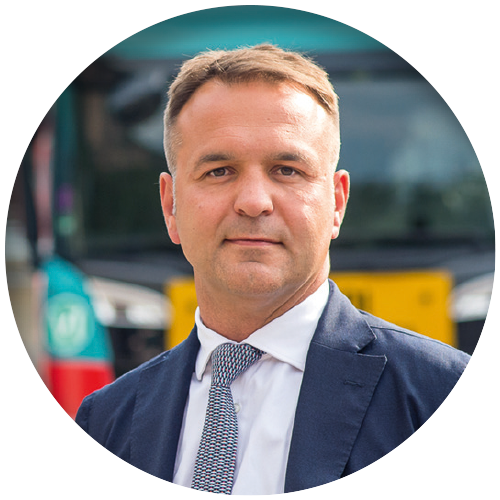 "Trieste has good rail connections to the hinterland."
Martin Gruber, CEO at Gruber Logistics
Last year, Genoa was the Italian port with the second-largest throughput after Trieste.
Route via the Brenner preferred
The companies that now make up the Road Freight division of the Rhenus Group have been active in logistics between Germany and Italy for over 60 years. The main modes of transport are lorries and all related forms of transportation such as full loads (FTL), part loads (LTL) or even intermodal transports. "Most frequently, we transport chemical products, such as dangerous goods, according to the ADR treaty, to and from Italy. Examples include dyes intended for use in the textile and cosmetics industries. From Italy to Germany, machine parts and non-perishable foodstuffs, such Italian pasta, are also typically transported," said Sebastian Knauth, Head of Go-to-Market at Rhenus Freight Logistics Germany.
The lorry routes usually lead from Rhenus Road Freight locations in Germany – for example from Düsseldorf (North Rhine-Westphalia), Dietzenbach (Hesse) or Kirchheim (Bavaria) – via the Brenner Pass in Austria to the north of Italy, particularly to Milan, Como, Turin, Bologna, Verona, Vicenza, Udine, Pordenone and Magreta. "The route via Switzerland is less practical, among other reasons because of customs clearance and the many tunnels en route, so we rarely use it," Knauth explained. He also identified the increasing shortage of drivers in the EU as particularly challenging for the industry. As a logistics service provider, the company also faces the conflicting demands of decreasing availability of goods on the one hand, and customers' ever-changing ordering behaviour on the other – customers are increasingly demanding large quantities in ever-shorter delivery times. "This entails extreme fluctuations in consignment volumes and pressure from both directions," said Knauth.
With a view to Bremen and Lower Saxony, Knauth points out that the Rhenus Group is particularly active there with Rhenus Ports. "One focus of our activities in the region is supply and waste removal for the steelworks in Bremen. More than 800,000 tonnes of coils are shipped to Italy from here every year," Knauth explained. Moreover, the three largest Rhenus Ports locations in Lower Saxony are Cuxhaven, Nordenham and Wilhelmshaven. From there, however, Rhenus primarily serves markets other than Italy – namely bulk goods bound for Germany and cars from Cuxhaven bound for the UK.
Italy has a plan
Like many other players in the market, these companies will keenly follow the changes brought about by the Construction and Resilience Plan (Italian: Piano Nazionale di Ripresa e Resilienza, or PNRR for short) that the Italian government launched in 2021. With this six-point plan, Italy intends to strengthen its economy in the wake of the Covid-19 pandemic and, among other things, accelerate ecological transformation and digitalisation as well as modernise the traffic and transport infrastructure. Until 2026, Italy will receive around 192 billion euros in grants and loans for this purpose under the 'Next Generation EU' reconstruction plan. Added to this will be extra funds that both the EU and Italy wish to raise themselves – a substantial part of this sum is to be channelled into improving the port infrastructure. "Italy wants to invest around 3.5 billion euros from both the Recovery Plan and from special budget funds in port infrastructure, including the improvement of sea access, energy efficiency and renewable power generation, digitalisation, increasing capacity and last-mile integration with railway lines," outlined Döhne. The measures are to be supplemented by the expansion of the important Genoa-Milan transport route ('Terzo Valico dei Giovi' project), which is part of the European transport corridor TEN-T Rhine-Alps. Another roughly 4 billion euros have been earmarked for this in the Recovery Plan. "I hope that the PNRR can be implemented effectively and on time," Buck said optimistically. "The content framework and funding for both an ecological and digital transformation of the Italian economy is secured. This also gives our German-Italian economic partnership perspective to implement these ambitious plans for a strong, greener and more sustainable Europe together and in a coordinated manner," he added. (bre)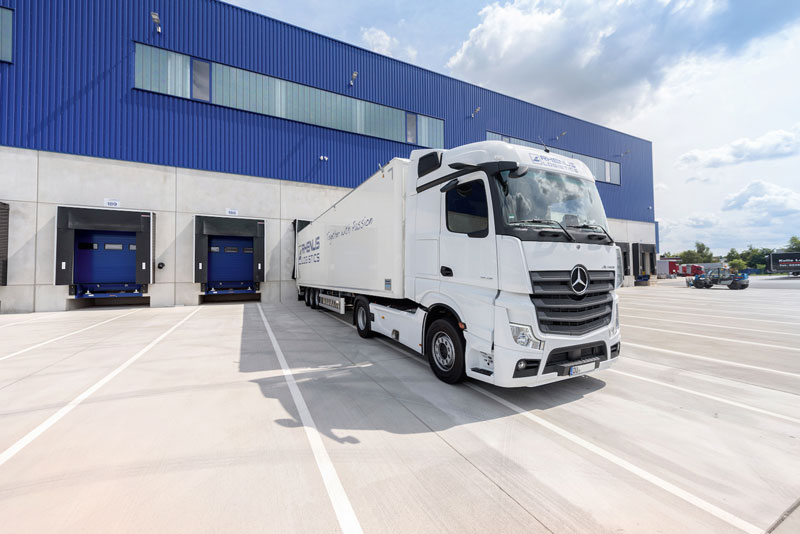 The Rhenus Road Freight lorry routes mostly lead from Germany to Milan, Turin, Verona and more via the Brenner Pass.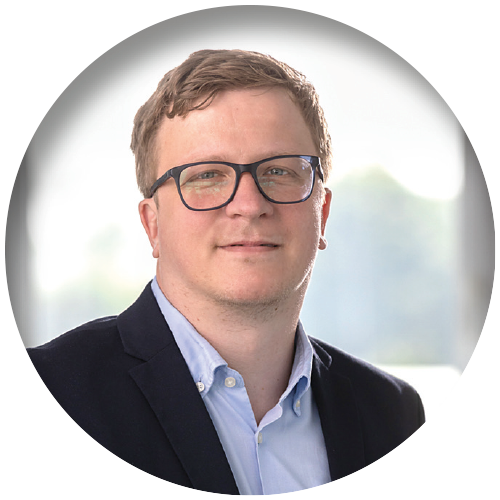 "More than 800,000 tonnes of coils are shipped from Bremen to Italy every year."
Sebastian Knauth, Head of Go-to-Market at Rhenus Freight Logistics Germany