A partnership put to the test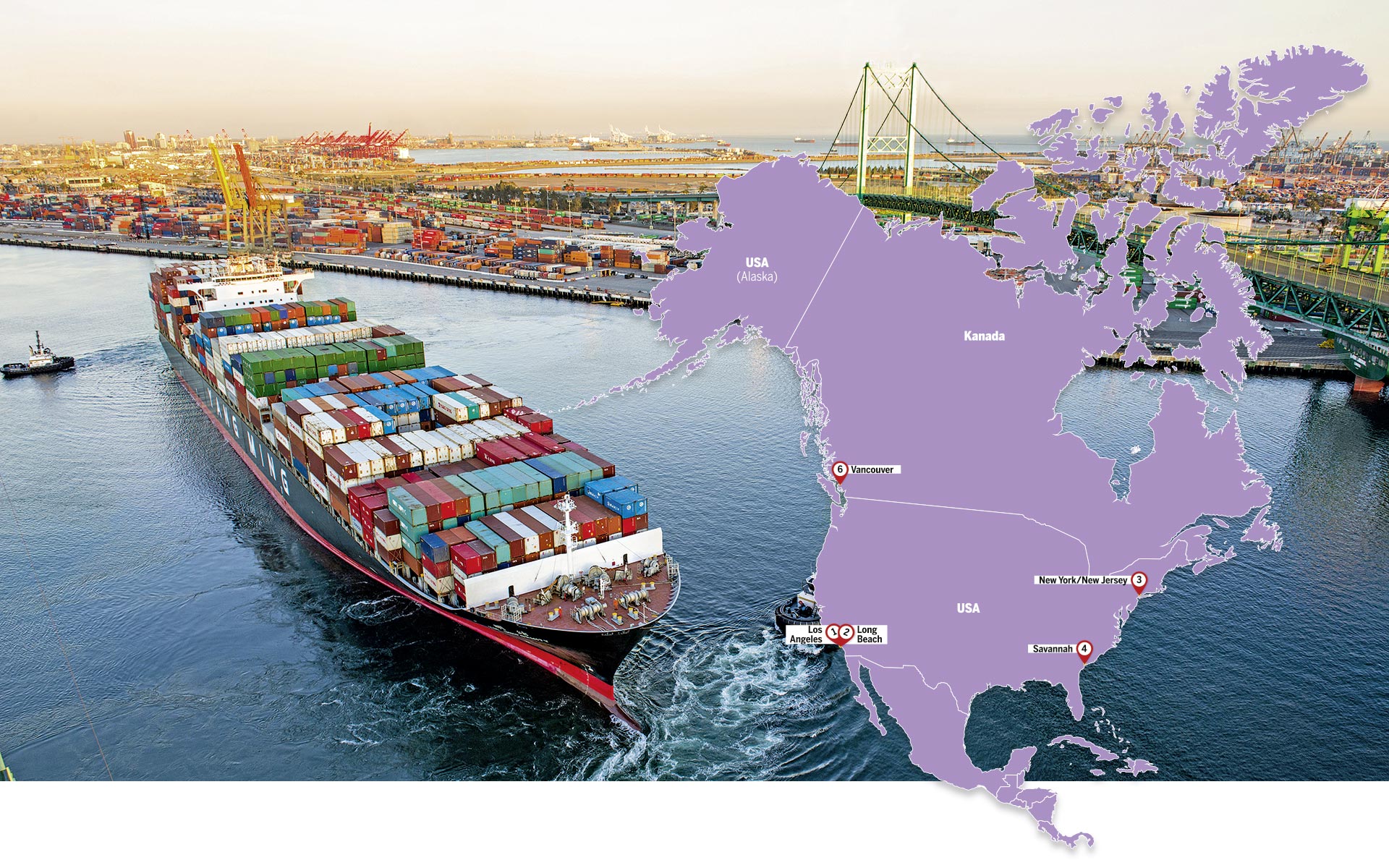 Change is afoot in the US – including in the economy. The new United States-Mexico-Canada Agreement (USMCA), came into force in North America on 1 July.
USMCA replaces the North American Free Trade Agreement (NAFTA) of 1994. Under the new agreement, the three partners – the US, Canada and Mexico – will allow extensive duty-free access to imports. USMCA also includes modified regulations for the automotive industry, the protection of intellectual property and trade in the digital sector. It remains to be seen what influence the agreement will have on economic relations between Germany and the US. Currently the US is Germany's largest trading partner for exports and the third largest for imports. Conversely, Germany ranks fifth and sixth respectively for the Americans. However, in recent years a number of problems have arisen (see Main Topic, page 10) that are putting this partnership to the test.
North America's largest ports
by container volumes (2018) (in Mio. TEU) Credit: Statista 2019
Germany– US
German imports from US 2019* as % of overall imports
Chemical products

21.2%

21.2%

Equipment

20.3%

20.3%

Cars and parts

9%

9%
German exports to US 2019* as % of overall exports
Equipment

22.4%

22.4%

Cars and parts

21%

21%

Chemical products

19.4%

19.4%
Germany – Canada
German imports from Canada 2019* as % of overall imports
Raw materials (excl. fuels)

28.1%

28.1%

Equipment

14.8%

14.8%

Chemical products

11.6%

11.6%
German exports to Canada 2019* as % of overall exports
Equipment

25.4%

25.4%

Cars and parts

24.6%

24.6%

Chemical products

17.6%

17.6%
US
Capital: Washington, D.C. | Inhabitants 2019: 329.1 m* | Size: 9,833,517 km2 | GDP/head 2019: US$65,112*
Electronics

12.7%

12.7%

Cars and parts

11.9%

11.9%

Chemical products

10.6%

10.6%
Chemical products

13.7%

13.7%

Equipment

10.3%

10.3%

Electronics

8.7%

8.7%
Top supplier countries 2019
1. China

18.4%

18.4%

2. Mexico

14.1%

14.1%

3. Canada

12.7%

12.7%
1. Canada

17.8%

17.8%

2. Mexico

15.6%

15.6%

3. China

6,5%

6,5%
Canada
Capital: Ottawa | Inhabitants 2019: 37.4 m*| Size: 9,984,670 km2 | GDP/head 2019: US$46.213*
Cars and parts

16%

16%

Equipment

13.3%

13.3%

Chemical products

11.1%

11.1%
Crude oil

15.3%

15.3%

Cars and parts

13.2%

13.2%

Food

9%

9%
Top supplier countries 2019
1. US

50.7%

50.7%

2. China

12.5%

12.5%

3. Mexiko

6.1%

6.1%

4. Germany

3.2%

3.2%
1. US

76.2%

76.2%

2. China

3.9%

3.9%

3. UK

3.3%

3.3%
Credit: Germany Trade & Invest, 2019 *PROVISIONAL INFORMATION, ASSESSMENT OR FORECAST