Digitisation offers great potential for development in Southern Africa. The German Federal Government has also recognised this and intends to make IT solutions an integral part of development cooperation with the "Digital Africa" initiative. In addition, cooperation with the German and European economy is to be strengthened.
An overarching trend in all Southern African countries is that the main access to the Internet occurs on the move, i.e. via smartphones. In South Africa, this figure reaches 75 per cent, and in Namibia 66 per cent. The "Digital 2019 Reports" from datareportal.com show that 36 per cent of the population in the Southern African countries have an active and mobile account on the major social media platforms. Furthermore, the importance of e-commerce is increasing. A total of 3.3 billion US dollars was spent in this area in South Africa in 2019. Over 55 per cent of regular Internet users purchased a product or service online. And 38 per cent of these purchases were made from a mobile device. Given its small population of only 2.5 million people, Namibia is still struggling to attract international investors for e-commerce. However, a different trend can be discerned in Namibia: As a result of digitisation, more and more people have access to financial resources and better access to information.
Tremendous potential – and risks
According to consulting firm Accenture, further digitisation in South Africa alone could create added value of five trillion rand – more than 300 billion euros. The German Federal Ministry for Economic Cooperation and Development (BMZ) reports similar trends. Over the past ten years, the level of intensity of information and communication technology in workplaces in South Africa has increased by 26 per cent. The BMZ estimates that in the long term digitisation will create more jobs and added value in all African countries. According to a study by Deloitte, the roll-out of mobile broadband Internet in developing countries could increase productivity by up to 25 per cent. This would lead to the creation of up to 140 million new jobs. And this is exactly where these jobs and future prospects are urgently needed. 
If, on the other hand, South Africa as the only African country among the G20 members does not succeed in developing the necessary skills and competencies for the new technological era between 2018 and 2028, economic growth of 152 billion US dollars is at stake over the next ten years.
"Africa can make huge leaps and bounds in development by means of digitisation. In order to achieve this, we must harness the full potential of today's technology so as to create new opportunities for young Africans in education, agriculture, medicine or the technology sector," Gerd Müller, the German Development Minister, emphasises.
With its Digital Africa initiative in 2015, the BMZ has thus introduced an instrument to firmly link development cooperation and digitisation. The initiative is part of the Marshall Plan with Africa, which is firmly rooted in the coalition agreement of the German Federal Government, and the BMZ strategy "Digitalisation for Development".  
In order to make better use of the existing potential, the ministry also launched a new network in the same year: Strategic Partnership Digital Africa (SPDA). This specifically brings European companies together with development cooperation organisations so that they can join forces and develop joint solutions. At present, there are about 180 partners involved, including large companies like SAP, Siemens and KPMG as well as small and medium-sized enterprises. In six dedicated expert groups (education, electrification, health, good governance, agriculture and mobility), medium-sized companies, start-ups and corporations come together with development cooperation organisations to exchange innovative approaches and develop joint ideas for projects. 
Households with Internet access in 2018 Sources: Statista, Digital 2019 Report from datareportal.com
Germany

94%

94%

South Africa

54%

54%

Namibia

31%

31%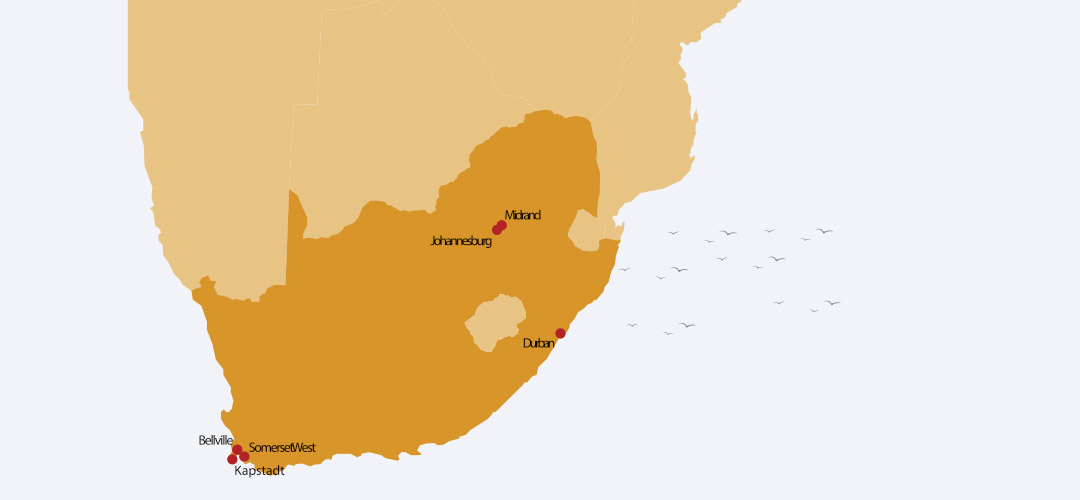 The South African logistics start-up scene is booming.
Ten examples, currently representing around 80 start-up companies:
Bellville Key Telematics (2009) | Durban Bottles (2016) | Johannesburg CQuential (2005) Parcelninja (2012) Fast Van (2015) | Cape Town Pargo (2014) BidShip (2015) Hitchhiker (2016) | Midrand Droppa (2015) | Somerset West WMS (2015); Quelle: www.tracxn.com
"With the 'Digital Africa' initiative, the Ministry of Development is already implementing over 50 projects with a volume of 150 million euros. From reinforcing good governance by means of public participation via the Internet, to new sales channels for farmers via apps, to medical care in rural areas via telemedicine," explains Müller. "This will allow for very real leaps in development and also open up new investment opportunities for German and European companies."
"Make-IT" supports start-ups in Africa
Another project launched in 2015 by the German development cooperation project and the Digital Africa initiative is "Make-IT", a project that is open for cooperation with partners from all over the world. The purpose of this tech entrepreneurship initiative is to improve the basic local conditions for technology start-ups in order to promote digital innovation locally and create new jobs in the long term. As part of Make-IT, the BMZ collaborates with over 20 German digital companies, social enterprises and associations. Up to now, Make-IT has supported more than 800 tech start-ups in the member countries through various measures such as networking opportunities and higher education courses. Erick Yong, CEO of GreenTec Capital in Frankfurt am Main, is well aware of the fertile ground that the BMZ initiative is encountering in Africa. "The middle class is growing, and with it an increase in e-commerce, resulting in greater demand for logistics services." This is also reflected in the investment total amounting to one million US dollars in 2018, of which logistics start-ups accounted for the second largest share with 12 per cent after fintech start-ups with 38 per cent. "However, infrastructure development cannot keep up with the rate of this development." Consequently, the big challenge is to expand the infrastructure for the growing B2C market. According to Yong, "The BMZ's willingness to lend its support here as a partner is thus very welcome." (cb)
Bremen's Engagement in Namibia
The Federal State of Bremen has a partnership with Namibia within the framework of the German Government and Federal State Pilot Programme (BLP) and is active in vocational training, mobility and logistics. In the domain of mobility and logistics, the BLP in Namibia works together with the bilateral technical cooperation project "Transport, Mobility, Logistics", which has been supporting the development of the Namibian transport sector since 2004.
The main partners in Bremen are the Senator for Climate Protection, Environment, Mobility, Urban Development and Housing, Bremer Straßenbahn AG (BSAG) (Bremen Tramways Corporation), the Allgemeiner Deutshcer Fahrrad-Club (ADFC) (German Cyclist's Association), the University of Bremen and bremenports.