July 2022 marked the official launch of the Transfer Centre for Artificial Intelligence (AI) at the Bremen and Bremerhaven sites. The centre has since not only raised awareness of AI among the general public by organising such events, rather it has also supported local small and medium-sized companies in implementing AI technologies. The main goal, however, is to use networking activities to strengthen and expand Bremen's AI ecosystem. The centre is funded by the Senator for Economic Affairs, Labour and Europe.
First experiences of AI – schoolchildren interacting with robots at last year's "Future Day".
Credits: Jonas Ginter, Transferzentrum für KI (3x), SWAE/Jan Rathke, rawpixel.com/aew
Not everyone is aware of how often we already use AI in our everyday lives. We use it, for example, when we surf the internet or when we shop online and are presented with personalised buying suggestions based on our previous purchases. AI is also often behind the navigation systems and virtual assistants that direct us to the right contact person when we call a company or a public authority.
"AI guides and helps us with a variety of options that shape our future," explained Inis Ehrlich, project coordinator responsible for managing the Transfer Centre for Artificial Intelligence Bremen/Bremerhaven – on behalf of Bremen's Senator for Economic Affairs, Labour and Europe, Kristina Vogt. Here, the possible areas of application for AI range from search engines and recommendation services, to chatbots and voice control, to robotics and cyber security. "However, the areas we deal with most intensively in logistics and the maritime industry are route planning and transport optimisation, storage and inventory management, as well as predictive maintenance," Ehrlich elaborated. Moreover, in logistics, exoskeletons – robotic frames that employees can wear on their bodies to help them lift heavy loads, among other things – are today's hot topic.
However, at "Future Day" on 7 July 2022, the Transfer Centre's kick-off event, the focus was on completely different forms of AI. Robots, autonomous vehicles on a large and small scale and intelligent augmented reality and virtual reality (AR and VR) glasses appealed most to the public and increased their enthusiasm for AI. "The launch event was a great success," said Ehrlich. "For many of the more than 300 visitors, including companies, numerous schoolchildren and university students, the event was their first real contact with AI. We hope to have piqued their interest further in how AI overlaps with daily life."
Isabella, KITE, K4R and more
Interest in AI in the maritime industry and in logistics has been high for a long time, and it is constantly growing. Accordingly, this makes reporting on successful AI projects in this market segment from Bremen and Bremerhaven, "Isabella" and "Isabella 2.0", for example, quite easy. These projects focused on the development of an intelligent planning and control system for logistics processing and the movement of automobiles between ship, train and HGV – a prototype was tested at the BLG AutoTerminal Bremerhaven. Those involved were BIBA – Bremen Institute for Production and Logistics at the University of Bremen, BLG LOGISTICS and the Bremen software specialist 28Apps Software. "KITE" was also developed with the participation of BLG. This is an AI-based process for HGV route planning that has enabled the companies involved so far to reduce their empty journeys by up to 15 per cent, thus contributing to the reduction of greenhouse gas emissions in transport. "KITE" has received funding of around one million euros from the Federal Ministry for the Environment and Digital Infrastructure.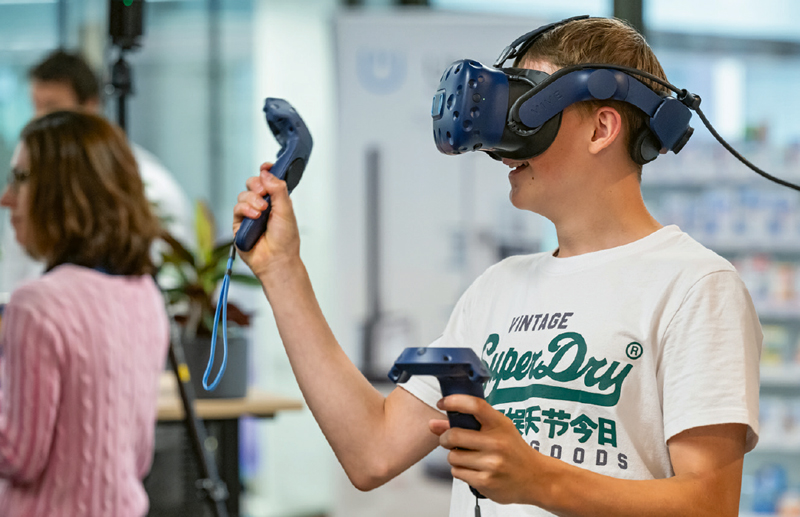 Hands-on AI technology – nobody could resist trying out AR and VR goggles at "Future Day".
For Ehrlich, the "Knowledge4Retail" (K4R) open-source platform, developed by the German Research Centre for Artificial Intelligence (DFKI) in Bremen, the University of Bremen and other collaborators, and the Ubica scanning robots are also considered showcase projects in the logistics field. The goal of K4R, she says, is to create a variety of new AI and robotic applications in retail, for example in the form of intelligent intralogistics, as service robots or for strategic retail marketing. The digital twins from Ubica Robotics, on the other hand, recognise and record the fixtures and inventory in various retail branches on a daily basis. The data gathered can be analysed with AI to improve shelf replenishment, optimise stock management or carry out a complete inventory audit, for example. "All these projects are important modules for Bremen and Bremerhaven's AI hub, and there are many more of them in our compact little state," stated Kristina Vogt, Bremen's Senator for Economic Affairs, Labour and Europe. "Hundreds of highly qualified specialists are already conducting excellent research and work here, making Bremen an internationally recognised AI development hub."
Bremen AI Days in June 2023
In this diverse field, Ehrlich's focus is always on the future and on new challenges, one of these being the next "Future Day" event, which will take place at the Bremen AI Transfer Centre in the Digital Hub Industry under the new name of "Bremen AI Days" on 27 and 28 June 2023. "Once again, we will open up to the general public and hope to see plenty of interested people join us. One of the closing events in the 'MINT 4 Girls' series will also be part of the AI Days. Similarly, we're delighted to feature an array of presenters drawn from Bremen's female AI experts who will be showcasing their innovations and projects," explained Ehrlich excitedly, unable to resist dropping this plug. (bre)
* MINT is the German abbreviation of academic subjects that corresponds to STEM in English.
Kristina Vogt, Bremen's Senator for Economic Affairs, Labour and Europe, sees Bremen as an "internationally recognised AI development hub".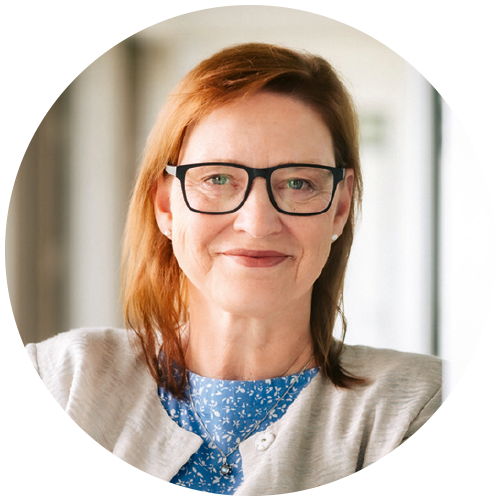 Inis Ehrlich is the project coordinator responsible for managing the AI Transfer Centre Bremen/Bremerhaven.