It was on 13 April 1970 that NASA's Mission Control Centre was told, "Houston, we have a problem." The German Offshore Spaceport Alliance (GOSA), on the other hand, is aiming for everything to go smoothly for its latest project – launching small carrier rockets from a specially designed ship in the North Sea, starting in 2023.
In just two years' time, these pictures could become reality. Small carrier rockets could then be launched from the North Sea.
In just two years' time, the futuristic-looking plans for a German spaceport in Bremerhaven are set to become a reality. Shipping group Harren & Partner, the OHB Group, MediaMobil and Tractebel DOC Offshore in Bremen have all joined forces to form an initial consortium and brought Lampe & Schwartze and BLG LOGISTICS on board as strategic partners. "As GOSA, we want to open a new chapter in German and European space travel and launch microlaunchers not from the mainland but from a ship to avoid flying over inhabited areas," explains Sabine von der Recke, GOSA spokesperson. According to her, not all the necessary approvals for the project have been received yet from the Federal Ministry for Economic Affairs and Energy and the Federal Ministry for Transport and Digital Infrastructure.
Rockets from three different manufacturers
Nevertheless, the partners' plans are already taking shape. An 'integration hall' is set to be built on a site on the ABC peninsula in Bremerhaven, in which the small launchers will be assembled and fitted. "We are currently working with various manufacturers of microlaunchers, including three German companies HyImpulse, Rocket Factory and Isar Aerospace, who will build different rockets up to 30 metres in size that will be able to carry satellites weighing between 400 and 1,200 kilograms," says Dr Andreas Stamminger, GOSA project manager, outlining the few facts he is officially allowed to communicate at this stage. "These will then be launched into low-Earth orbit at altitudes of up to 700 kilometres."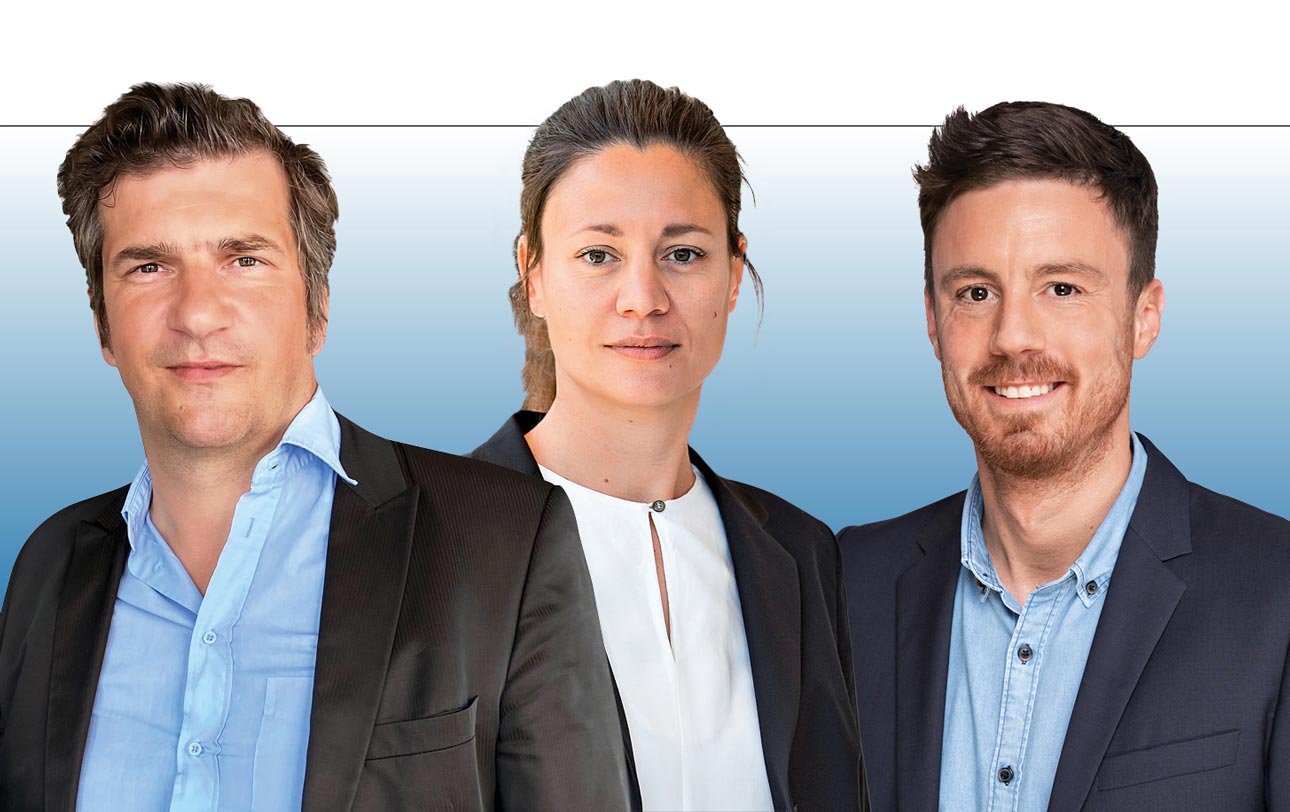 "Before the rockets can be launched, an extensive logistics operation is required"
Making the vision a reality: Andreas Stamminger (OHB System), Sabine von der Recke (OHB Group) and Malte Steinhoff (Harren & Partners Group).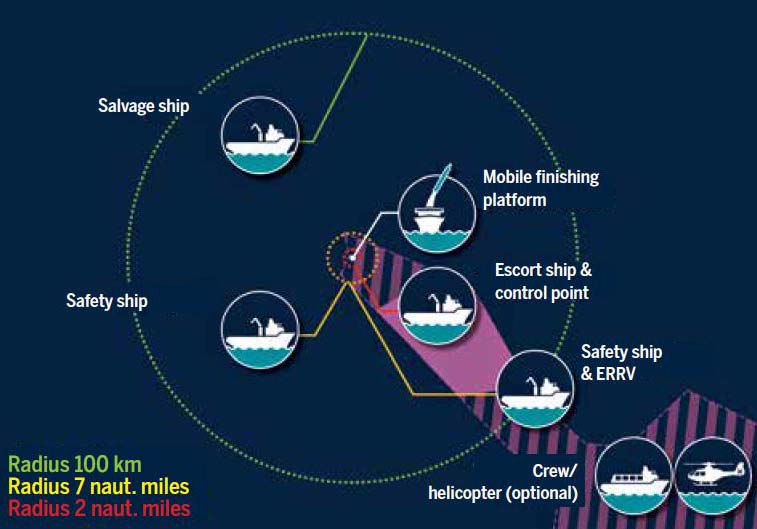 The security concept for the project has already taken concrete shape. Here you can see where the deployed participants could be placed.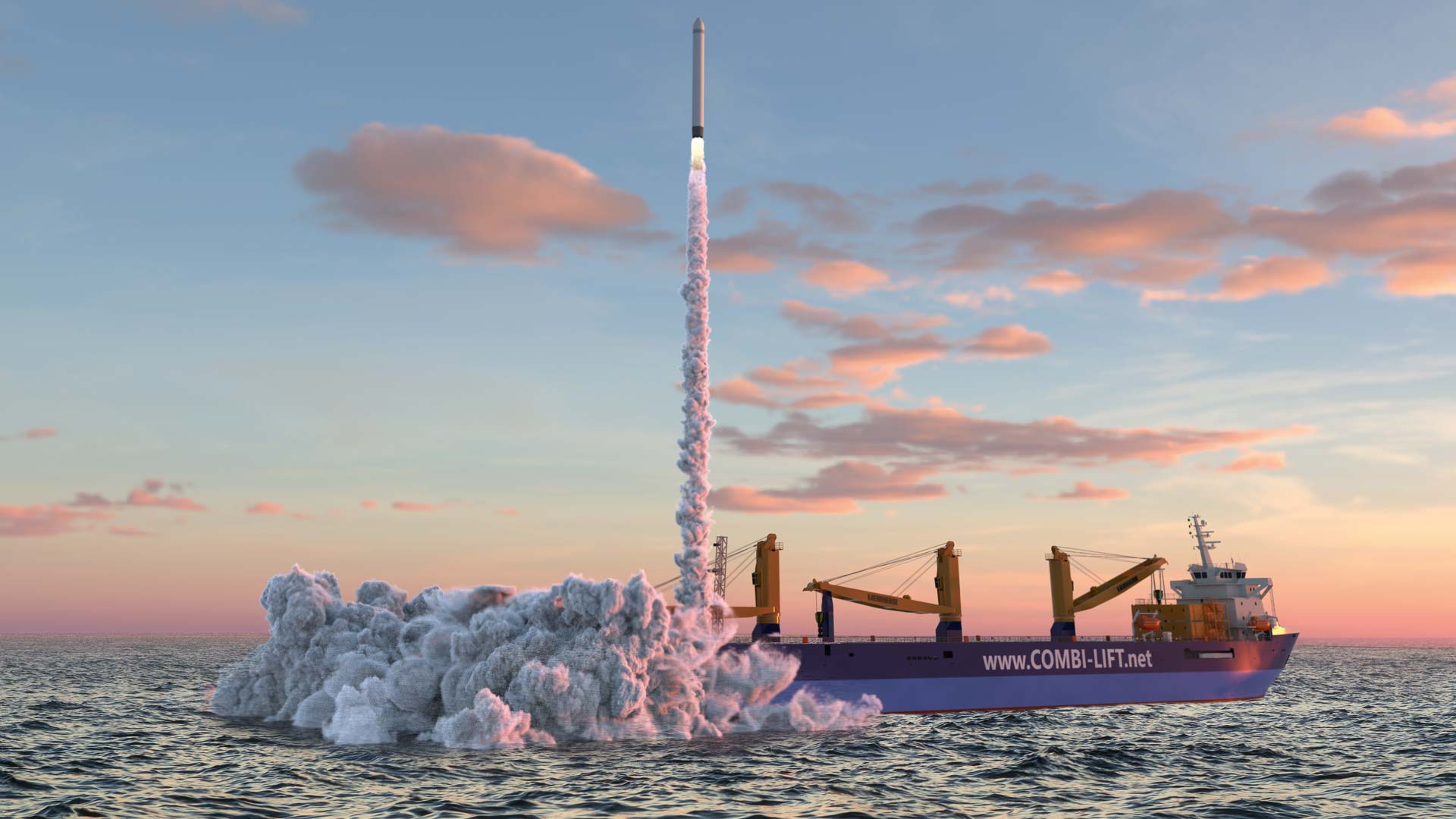 Before the rockets can get off the ground, however, an extensive logistics operation is required. A rotation principle with multiple launch boxes (the boxes in which the rockets are transported to the ship fully assembled) will be used. Once this has been done on the site in Bremerhaven, they will be transported by self-propelled modular transporter (SPMT) over ramps to a RoRo ship in the port, which will later also serve as a launch platform for the rocket. For this purpose the team will use the 169 metre long and 25 metre wide dock ship Combi Dock I, owned by shipping company Harren & Partners. The company has a diverse fleet of specialised offshore vessels and brings the diverse expertise of numerous maritime engineers to the project. "We'll be making some modifications to the vessel before it can get underway," says Malte Steinhoff, Head of Marketing and Communications at the Harren & Partners. "Because although the Combi Dock I is ideally suited for transporting missiles, we haven't yet launched any missiles from on board. In order for this to happen, some conversion work is required. The ship has to be equipped with a locking system to secure the launch box at its intended stowage position." He also explains why the consortium wants to operate with different launch boxes. "This way we can continue working on land even when a rocket is at sea. Because we're currently assuming that a microlauncher will be launched every one to two weeks, depending on demand, in order to collect important data that can later be used for environmental and climate protection or for telecoms."
No previous experience
The safety design for the missile launches at sea is similarly thorough. The loaded Combi Dock I will travel about 460 kilometres to the western edge of the German exclusive economic zone, a region known as the 'duck's bill'. From there, the rocket will be launched after being erected and refuelled on site. Before that, however, the crew and all other persons will have left the launch vessel. At a distance of at least two miles, the escort ship and control station will then be positioned, from where the launch will be carried out by remote control. At a distance of seven miles, there will also be another ship, similar to those used for security and rescue operations on drilling and production platforms in offshore oil and gas fields. Last but not least, a salvage vessel will be located at a safe distance to collect the missile's carrier stages, which will have landed in the sea.
"Our goal of having the platform ready for the first launch in 2023 is ambitious, but realistic," says Steinhoff. "There has never been a project like this before. This means we have to plan every step meticulously without having previous experience to fall back on." After all, in the age of digitalisation and AI, the GOSA partners are aiming to generate valuable data for the benefit of numerous companies and the entire German value chain. And one piece of news they really don't want is that, just like in Houston fifty years ago, there's a problem. (bre)