Cross-border logistics are standard practice in shipping. However, not all shipments have Germany either as the origin or the destination point. When it comes to such complex cross trades, smooth planning and handling are particularly important. Hansa Meyer Global relies on its globally based offices for this, as well as brain power in the Bremen headquarters.
Credits: HANSA MEYER GLOBAL
Industry standards are driven by the global economy. Machines and facilities are typically produced where it is most cost-effective in accordance with the respective quality standards. And that is no longer in Europe, but more often in Asia. "In the past, for example, wind turbines for the Asian market were produced mainly in Europe – that flow of supplies has now completely reversed," reported Jan-Dirk Schuisdziara, managing partner at Hansa Meyer Global Holding. "Another example is China, where massive capital investment has been made to expand local production, so many components are now produced there and exported throughout the world."
And it is exactly such facility engineers, known as EPC contractors (Engineering, Procurement and Construction), that form part of the client base of project forwarders such as Hansa Meyer Global. "Typically, these companies plan, design and build the facilities independently for the customer until project completion, and they require one or more forwarders to execute this," explained Schuisdziara. "Your company location usually plays little role in the procurement process. That means the customer or freight payer could be based in Germany and commission us, a Bremen-based company, to handle the project deliveries to the construction site in Texas. Deliveries are made from Shanghai via containers, as break-bulk cargo by ship or via other means."
Observing international customs and requirements
Such contractual triangles constitute a typical cross-trade transaction. In logistics, this refers to cross-border transport where both the place of export and the place of import are located in foreign countries. For typical project forwarders such as Hansa Meyer Global, this has always been part of the service portfolio. What has changed, however, is the prominence of this business segment. "20 or 30 years ago, the proportion of deliveries via Germany was significantly higher, at around 70–80 per cent," the managing partner recalled. "Today, that ratio has reversed – two-thirds of our shipments are cross trade." The only outlier here is air cargo, for which the proportion of cross trading is significantly lower at 15 per cent.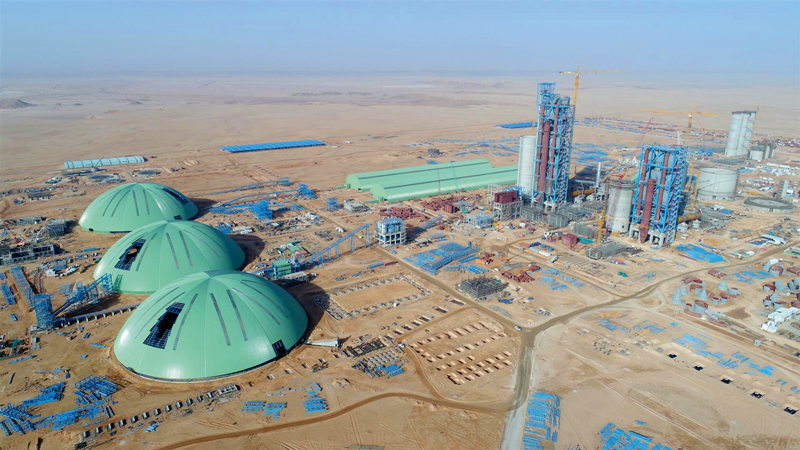 With 360,000 freight tonnes and deliveries from Europe and Asia, the Yamama Cement factory in Riyadh, Saudi Arabia, is the largest industrial project in the country in the past ten years.
Depending on the industry, type of facility and project complexity, thousands of components from up to 20 different countries must be delivered to a single construction site in crates, containers or as break-bulk cargo. This is only possible with sufficient expertise. "Without our near 40 years of international experience and our network of partners specialising in project cargo, we would not be able to run our business reliably for our customers," Schuisdziara stressed. To this end, the forwarding agency has built a collaborative network of 24 offices and partners worldwide, which has just been expanded to include a company in Texas and a new office in Monterey, Mexico.
Customers are well aware of the challenges involved with this and know that changes in plans on behalf of the supplier and/or construction site are also very common abroad. Nevertheless, getting the components to the construction site at the agreed time and within budget is only possible if there is very close coordination between the suppliers, local service providers such as packaging companies, truckers and lighters, as well as the ports and main transport carrier. Furthermore, the more complex the transport requirements in each country – for example, customs clearance; approval for heavy and oversized cargo; and challenging packaging and interim storage stipulations – the more experts are needed on site.
Data transfer with customers is gaining in importance
IT also plays an increasingly crucial role in this type of business: "In order to ensure transparency in complex projects, some of which may involve over 100,000 freight tonnes per individual order, and to manage the contractually agreed key figures, we are investing in the continuous development of our data systems," reported Schuisdziara. "For example, we can directly transfer order data from our customer's SAP system or another database via the interface, and then display this alongside the planning and shipping data, including any documents from Hansa Meyer. In addition, all companies involved in the logistics chain are also connected, so that real-time data can be reflected in the original plans and deviations can be accurately documented."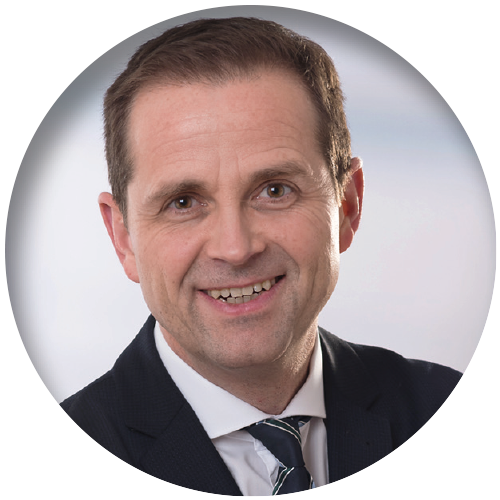 "Two-thirds of our shipments are cross trades."
Jan-Dirk Schuisdziara, Managing Partner, Hansa Meyer Global Holding
Good planning and experience are needed to lift this 300-tonne column from a Texan chemical park and get it ready for transportation.
Contracts are becoming more complex, terms of trade more challenging
How attractive a lucrative-looking project cargo assignment actually is for the handling company depends largely on the provisions of the logistics contract. Here, too, a lot has changed: "In recent decades, the stipulations to fulfil both customer and legal requirements have increased," stated Schuisdziara. "Here, it is important to identify and manage requirements diligently and to insure against contingent liabilities." In any case, the following rule applies: "If the risks are not manageable or adequately insurable, we reject the request and state our reasons. If the customer later determines that our assessment was correct, they will continue giving us their custom." This establishes trust and is one reason why the company has, for decades, been successfully collaborating with many well-known companies.
The pandemic and the war in Ukraine have increased the challenges in the logistics industry as well as in cross trading. "Transportation costs have multiplied: it currently costs over USD 40,000 to ship a 40-foot flat-rack container from east to west. Two years ago, the same freight would probably have cost less than USD 10,000," explained Schuisdziara. "Depending on the cargo, it is difficult to plan the space on board and availability of containers. Plans often need to be changed two to three times and adapted according to daily requirements – a situation which increases costs considerably and can, unfortunately, only be marginally remedied by digitalisation."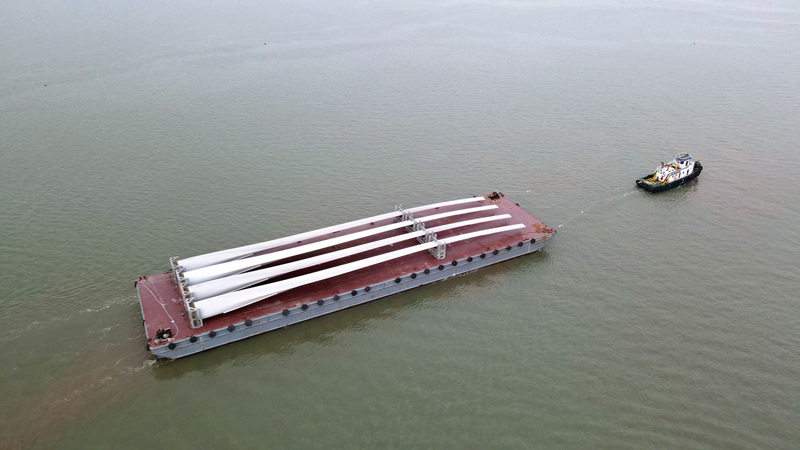 Rotor blades made in China are transported via waterway
in Vietnam's hinterland.
Cross trade trends: summary and outlook
"Even if it is inevitable that there are seasonal fluctuations and challenges in world trade from time to time, globalisation won't be going away," Schuisdziara believes. The growth markets remain: Australia, for mining, oil and gas, and energy projects; Nigeria, for infrastructure and energy projects; and Saudi Arabia.
"A definite trend is that suppliers abroad are now increasingly interfering in the logistics decision-making process, which is why an effective network with our own offices and quality standards has become more and more important. Since the management buyout in 2021, we have been pursuing a strategy of continuous growth entitled 'Engineering Transports of Tomorrow', with extensive product and network expansions over four years. The goal is to expand our network from 24 to 30 offices and to reach EUR 200 million in annual sales." (cb)
Hansa Meyer Global
Established: 1986, management buyout 2021
Headquarters: Bremen
Branches: 24 own offices worldwide
Area of business: project forwarding
Employees: 230 worldwide
Turnover 2021: EUR 84 million