The EMS-Fehn-Group specialises in particularly large, voluminous and heavy loads. In addition to technical expertise and its own equipment, the Leer-based company group considers good external and internal communication as its key USP.
When it comes to the project cargo industry, thinking through all the options and costing is imperative, because even ports that initially seem logistically rather distant can ultimately be the cheapest and/or fastest way to reach the destination.
Credits: EMS-FEHN-GROUP
The fact that Dominic Sleur conducted the interview for this article from Finland is significant in several respects. Firstly, Scandinavia is an important market for the EMS-Fehn-Group, of which he is CSO (Chief Sales Officer). Secondly, the four large-scale transport projects in the region can best be managed personally on site, according to his philosophy.
And the fact that onshore wind farms currently play a large role in Finland is no coincidence. After all, these are part of the core business of the group, which has a total of 18 companies with branches or their own offices in ten countries. "We do a lot globally in the onshore wind energy segment and have also seen strong growth in recent years," Sleur emphasised. "This applies, amongst other things, to services with large cranes, with which we as a group support the construction of wind farms, for example, in Sweden and Finland."
In Scandinavia, in particular, demand has skyrocketed recently: "The demand for logistics and crane services is huge and will continue to rise, given the onset of the energy crisis," observed the CSO. "The same is true in principle for the whole of Europe." Offshore wind energy, on the other hand, which is also being strongly expanded, has so far tended not to be amongst the group's core areas. But that could now change: "We definitely see potential there and note the large cargo volume. Naturally, this segment is interesting for us, for example when it comes to the transport of turbines as well as cranes for their handling."
Owning assets is core to corporate philosophy
The company also gets ahead thanks to its assets. For example, it has two port terminals of its own – one in Durrës, Albania's most important port, and the other in Papenburg, Lower Saxony. In addition, the operation of a further terminal is currently being established at the EFG Heavy Haulage site in Lübeck. Goods are also being handled and stored there already.
The company has its own fleet of general cargo ships, too, with a total carrying capacity of 2,600 to 9,650 tonnes each. "Our ships are mainly used in European coastal traffic and some of them have their own loading gear," reported the Chief Sales Officer. And the group also relies on its own vehicles for land transport by road. These include tractor units equipped for heavy-load transport, together with a large number of different trailers.
The value of these assets is particularly evident in times of disruption. "It's very important that when the going gets tough, we can always fall back on our own ships, just as we can on our own lorries," Sleur explained. These eventualities have certainly increased as a result of the current situation. "A few years ago, it was much easier to accommodate project cargo on ships. As a rule, it was possible to get several suppliers interested in transporting a cargo load at the same time, which of course had a positive effect on the price," said the CSO. Since then, the market has completely turned on its head. According to Sleur, it is no longer a matter of negotiating a price discount, but of choosing the shipping company that is resilient enough to perform even in difficult times.
Moreover, in the project cargo business, the 50 per cent increase in ocean freight rates compared to the pre-pandemic period is particularly problematic. "In some cases, the projects were costed two years ago, so of course that much buffer is not included in the budget," highlighted the sales director. There are also significant changes to scheduling. "At the moment, large volumes from China already have congestion in the ports factored in at the enquiry stage of a project."
Nacelles are typical cargo at the Bremen and Lower Saxony seaports
Besides parts for onshore wind farms, however, the group also transports equipment of a very different nature. One example was an asphalt mixing plant for an international manufacturer: "For the NYK shipping company, it was the largest single shipment on a RoRo shipping vessel in Bremerhaven to date." Typical cargoes in the region also include wind turbines, which are handled in the Bremen and Lower Saxony seaports.
Regardless of the cargo type, the relationship with customers is of great importance in the project cargo business. After all, more intensive communication and coordination is necessary compared to containerised cargo. However, it is this that can be extremely challenging, given that every customer has different needs. These include both country-specific and corporate cultural differences. "For some customers, for example, it is quite important that we adhere to a hierarchy when reporting. Other companies lack experience in logistics, and they are understandably very grateful when we take just about everything off their hands concerning transportation."
With every job, it is essential to always check everything carefully. "The most important thing is to be meticulous," Sleur emphasised, "from the planning, to the costing, to the documentation for billing." While this may sound simple in theory, this is not always the case in reality. For example, for the four projects currently running simultaneously in Finland, there are at least eight ports that can be used along the west coast. "Of course, it's tedious to talk to all the liner shipping companies and to go through all the pre- and post-haulage configurations, especially when these are not logistically obvious at first glance." In the end, however, this approach can be cheaper, faster, or both.
"If I don't check all the options and it turns out afterwards that there would have been another more attractive option, someone else will get the order next time," explained the CSO. Flat hierarchies and good communication are therefore imperative. "Being able to ask every question is a must," stressed Sleur. "It's the only way to find out whether, for example, instead of a Canadian port, arriving at one on the US East Coast would ultimately be much cheaper – even with the 2,000 kilometres of rail transport that would follow. If this plan is then communicated well, it is a clear USP. (cb)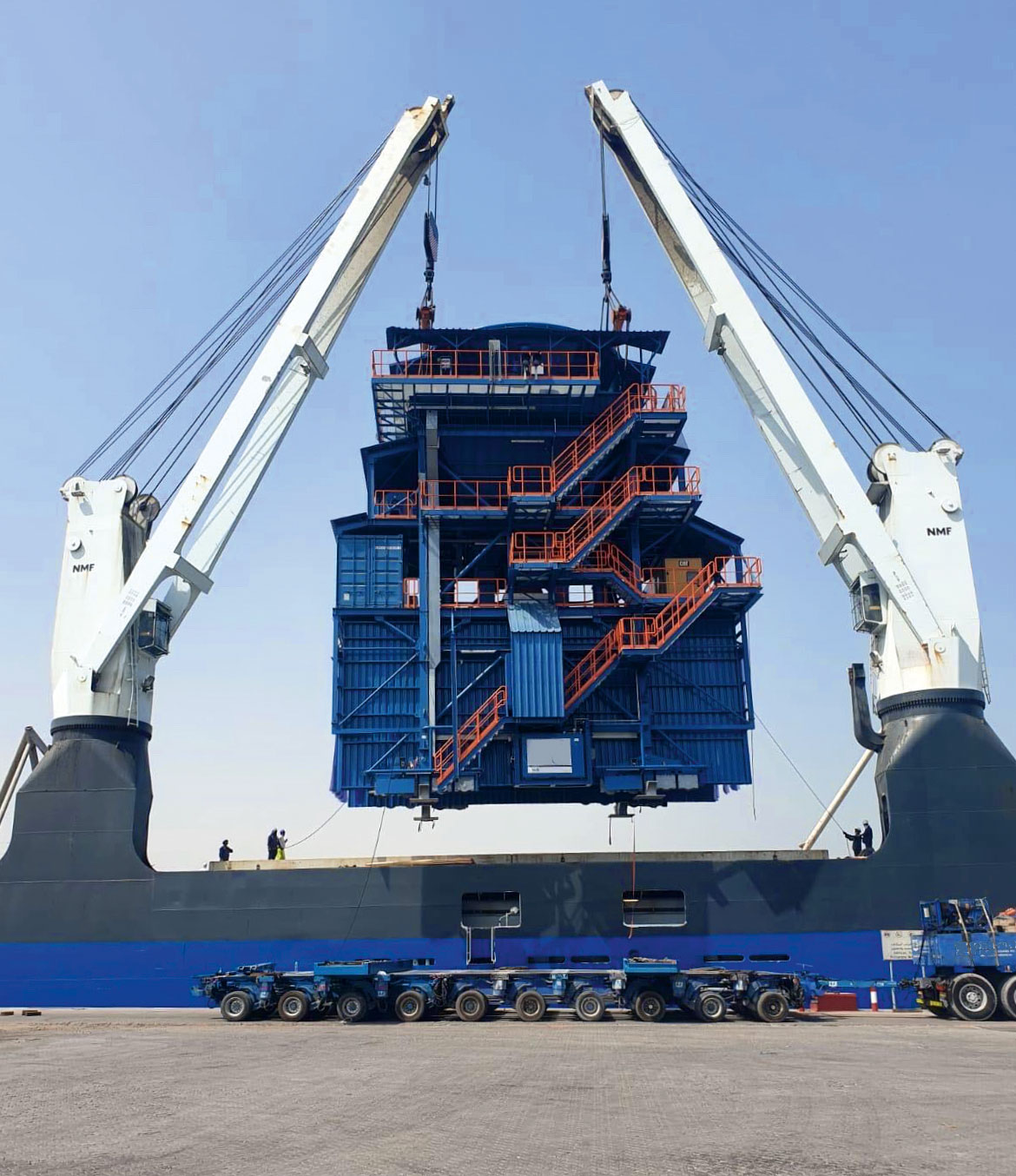 EMS-Fehn-Group
Headquarters: Leer
Established: 1984
Project cargo by ship in 2021: cargo tonnes in the seven-digit range
Number of companies in the group: 18
Branches/own offices: 10 Länder
Group turnover in 2021: approx. 120 million euros
Employees: approx. 360 (280 onshore and 80 offshore)