Only in Baltimore is there more RoRo cargo handled than here at the Colonel's Island terminal in Brunswick.
The Georgia Port Authority (GPA) is aiming to improve supply chains around Savannah and Brunswick with a range of construction and development projects so that goods can reach customers even faster.
Photos: Georgia Port Authority
The ports of Savannah and Brunswick are logistical heavyweights not only in the state of Georgia, but in the entire United States. Located almost 1,300 kilometres south of New York, Savannah is the fourth largest container port in the country after Los Angeles, Long Beach and New York. Its two deepwater terminals handled around 4.6 million TEUs last year. The location is considered an important hub for forestry products, automotive and steel. The port of Brunswick is located just ninety minutes south of Savannah. With its four terminals, it's one of the largest car loading ports in the US and the second largest RoRo port in the country after Baltimore. In 2019 alone, 614,000 units of RoRo cargo crossed the quay.
"If you want to see how growth strategies are implemented efficiently, these locations are prime examples," says Captain Ralf Borjes, senior surveyor and country manager at Mund + Bruns in Georgia. "When I first visited this region twenty years ago, there was no suggestion that Savannah would one day be one of the country's most important ports and that Brunswick would today be a major artery for the automotive industry. Brands such as Jaguar, Landrover, Porsche, Mitsubishi and Volvo use Brunswick primarily as an import port, while BMW and Kia use it as their export base."
In Savannah, to attract even bigger ships, the port will be expanded from 12.8 to 14.3 metres dredged.
Two ports with ambitions to expand
In Georgia, however, where around 440,000 jobs are linked to the ports and inland waterway terminals, this is not enough. GPA aims to increase the competitiveness of these locations with extensive investment in the ports of Savannah and Brunswick and in their rail and road infrastructure. A total of around $1.4bn is earmarked for this purpose between 2019 and 2029. Container handling capacities in Savannah are to be doubled to around 8.5 million TEUs by 2026, and the GPA has set a target for 2033 of 11 million TEUs.
One project currently underway and scheduled for completion by the end of 2021 is the Savannah Harbor Expansion Project (SHEP). The port will be dredged from its current depth of 12.80 to 14.30 metres while terminal operations continue. Those in charge of the project hope that the deepening will enable even larger ships to dock at the port with higher loads and longer tidal windows.
As part of the Mason Mega Rail Project, eighteen new rail lines are being provided for the port of Savannah. The first nine are already in use.
Running in parallel for the past four years is the Mason Mega Rail Project in the Port of Savannah. To improve the hinterland connection to the southeast and the midwest, GPA plans to commission a total of eighteen new tracks by 2021. The first nine tracks opened in May of this year. "The rail link there is already well developed. The major cities of Atlanta, Charlotte, Chicago, Dallas and Memphis can be reached by train in two to five days, the inland terminals in Bainbridge and Chatsworth within 24 hours," says Borjes. Unlike in Germany, two containers are stacked on top of each other on the train. These trains can be up to two kilometres long. With the Mason Mega Rail Terminal, GPA intends to double the port's annual rail capacity from one million TEU to two million TEU. A lot is happening in Brunswick, too, where within the next few years the current port area of around 200 hectares is to be expanded to 380 hectares.
This too would see current capacities doubled. "These are real movers and shakers, the clocks just tick differently here. In 2019, a forty hectare expansion of the port at Colonel's Island terminal was approved, and just four weeks later the storage space required for cars and heavy equipment was available," says Borjes.
And GPA has even more far-reaching expansion plans for Brunswick. After a second access road, an expansion of the rail network in the port is also on the agenda to improve service to markets west of the Mississippi. BMW recently raised Brunswick's spirits when it signed a new twenty year contract for the transport of vehicles via the Colonel's Island terminal. In the past fifteen years, the German car manufacturer has already moved 612,000 of its vehicles via Brunswick.
An example for Germany?
"Ports can only develop at this pace and in this form if, as in the case of Brunswick, sufficient land is available and if politics and business, as in these two locations, pull together and show some flexibility," says Borjes. "Germany could take a leaf out of Brunswick's book." Borjes believes the German corporate culture is characterised by a higher degree of foresight and long-term planning than in America, but this is precisely why the planning and implementation phases in Germany are often significantly longer than in the US. (bre)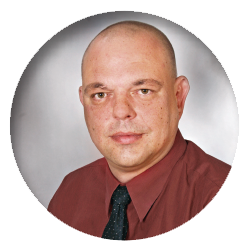 Captain Ralf Borjes
… has been working in America for five years and has been responsible for Mund + Bruns in Georgia for two years, primarily for the inspection and monitoring of loading and discharging and for project shipping loss prevention. Based in Bremen, Mund + Bruns is a Georgia transport specialist.