At the Maritime Technical Centre Leer, scientists from the Faculty of Maritime Studies and Maritime Sciences at Emden/Leer University of Applied Sciences and the Fraunhofer Institute for Wind Energy Systems (IWES) in Bremerhaven are jointly driving maritime research forward.
A sailing combination ferry for the Marshall Islands is currently being developed in the towing tank.
Fotos: TOBIASTRAPP, AKKA OLTHOFF, ISTOCK/RELAXFOTO.DE/SHULZ
With the University of Applied Sciences Emden/Leer and its approximately 110 professors and 4,600 students, Lower Saxony is already well positioned with Leer as a shipping location. With the Maritime Technical Centre, opened a year or so ago, research and teaching at the Faculty of Maritime Studies and Maritime Sciences will now be improved even further. Indeed, the new large-scale laboratory, in which Lower Saxony has invested about 6.4 million euros, will act as an information and service hub for the region and beyond.
"The special feature of the Maritime Technical Centre is that the Emden/Leer University of Applied Sciences and the Fraunhofer Institute for Wind Energy Systems (IWES) from Bremerhaven are jointly developing a research location for sustainable maritime mobility," reported Jann Strybny, Professor of Maritime Environmental Engineering and Fluid Mechanics, who also researches at Emden/Leer. In addition, Strybny was responsible for the scientific management of the planning and construction of the technical centre and for preparing the cooperation with IWES.
Development, construction and operation of wind propulsion systems for commercial shipping
Of particular importance for the pilot plant is the Fraunhofer 'Sustainable Maritime Mobility' working group, which is establishing close cooperation between the university and IWES under joint management at both locations. "Our core interest here is the transformation of shipping into a more sustainable transport system using renewable energy sources," explained Strybny. "A major focus of our work will be the development, construction and operation of future-oriented wind propulsion systems, i.e. sailing technology for commercial shipping."
Firstly, this involves the direct use of wind energy, for example from superstructures installed directly on the ship, such as Flettner rotors, wingsails or dyna-rigs. In simplified terms, wingsails are vertical aircraft wings, and dyna-rigs are raft-based, i.e. mostly rectangular or trapezoidal sail systems. "Unlike other systems, however, kites are unlikely to become established, as they are costly to maintain and don't guarantee a long service life," admitted Strybny. "What is viable for the future, on the other hand, are very powerful wind propulsion systems that can be highly automated and operated reliably with few crews and minimal risk of damage." The second possibility is the indirect use of wind energy in the form of artificial fuels, which can then be used on ships with classic combustion engines or fuel cells.
"Overall, the level of development of the use of wind propulsion in shipping is roughly comparable to that of wind energy in the 1980s," the professor reported. "Back then, for example, the rated power of the first onshore turbines was 55 kilowatts. Today, the largest wind turbine on the UK's east coast has a rated power of 14 megawatts, meaning 255 times the original figure."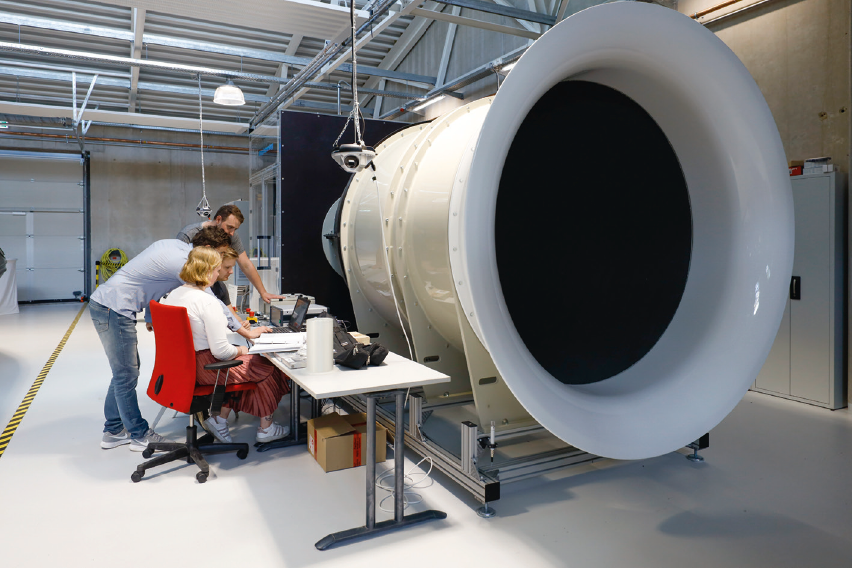 Scientists and students use the wind tunnel, specially optimised for researching sailing systems.
Learning from wind energy
This is why the working group 'Sustainable Maritime Mobility' also wants to focus on crossover and upscaling effects between sailing technology and classic wind energy systems. "Just as the learning effects in classic wind energy have led to upscaling, we also want to use this for propulsion technology. In particular, the mechanical and materials science advances in the wind industry can be transferred to marine," Strybny explained. "We see this as a major opportunity of the cooperation with Fraunhofer-IWES."
This type of propulsion involves columnar sails whose rotating cylinders provide propulsion. With a diameter of three metres, they have been in operation for four years on the 'Fehn Pollux' of Leer-based Fehn Ship Management, for example. With a new high-tech passenger ship for a northern German client that is being equipped with a sail system on deck, there is already another concrete application in the region.
"For tankers, 60-metre-high rotors with a diameter of ten metres are quite conceivable, of which four to six are then installed," Strybny explained. Before mass installation, however, a number of questions still need to be clarified, such as how many rotors should be installed on deck, how large they should be, and how this affects the aerodynamics.
Small but precise: all experimental facilities in one large laboratory.
The newly built large laboratory is now available for this purpose. "This is unique for Germany," emphasised Strybny. "This is because here we have brought together powerful large-scale research equipment for all relevant maritime-technical processes in a single large test hall." The spectrum ranges from towing tank, wave machine and manoeuvring basin to wind tunnel and troughs for studies on sediment transport to a ship propulsion laboratory and a maritime acoustics laboratory. "In the planning phase, the emphasis was not on maximising size, but on completing the multitude of processes and the facilities' extraordinary precision," he explained. "This is possible because the modelling is hybrid, which means we work with mathematical models and back them up with laboratory tests."
Very important to Strybny, however, is cooperating with the Lower Saxony Wadden Sea National Park Authority. In doing so, the laboratory and the exhibition areas are to be developed as an extracurricular place of learning to interest schoolchildren in the future of the seas. There are so many ways how this can now begin in Leer. (cb)
Maritime Technical Centre Leer
Large laboratory: Faculty of Maritime Studies and Maritime Sciences, Emden/Leer University of Applied Sciences.

Construction period: March 2019 to June 2021
Construction costs: approx. 6.4 billion euros
Employees: 40 (Maritime Studies), 12 of them in the Fraunhofer 'Sustainable Maritime Mobility' working group.